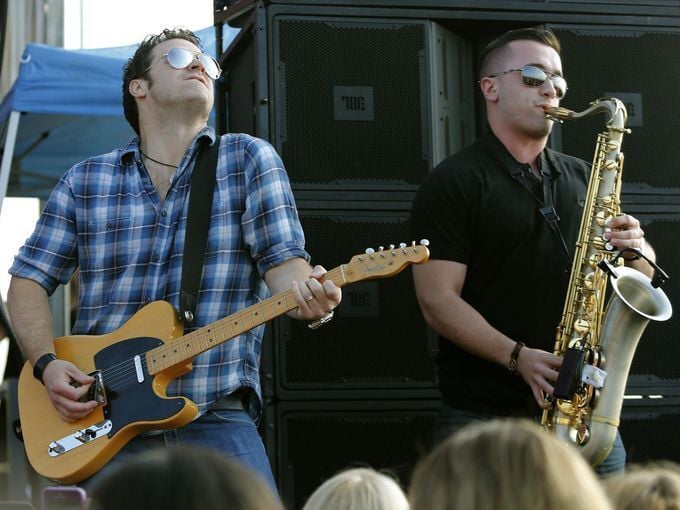 Celebrity Boxing heads to Lucky Snake
Let's get ready to rumble! Showboat Resort and Convention Hotel and Lucky Snake Arcade and Sports Bar will host celebrity boxing bouts 7:30 p.m. Friday, June 11. The event can also be viewed on Pay-Per-View on FITE TV.
Hosted by two-time Grammy Award-winner Ice-T and his wife Coco, the event features fights between famous names and faces from the worlds of music, sports, social media and business.
The main attraction will see NBA legend Lamar Odom take on pop star Aaron Carter, while the co-main event will have Apex Sport CEO Drew Bournet square off against social media influencer Wideneck. Other bouts include matchups between rapper Peter Gunz and Love & Hip Hop star Cisco Rosado, celebrity boxing heavyweight champ Hazel Roache and real two-time heavyweight champ Tim Witherspoon, as well as a fight featuring CEO of Jar of Hope Jim Raffone and Tommy "The Tiger" Moose, among others.
Doors open at 6 p.m., and the first bout starts at 7:30 p.m. Tickets are sold out. Showboat is located at 801 Boardwalk, Atlantic City. For more info go to ShowboatHotelAC.com.
The Rat Pack begins residency at Hard Rock
Every Saturday and Sunday from June 13 to July 4, Hard Rock Hotel & Casino Atlantic City will host The Rat Pack: Back in Town, a musical and comical recreation of Rat Pack legends Frank Sinatra, Dean Martin and Sammy Davis Jr.
The show will run 7 p.m. Saturdays and 4 p.m. Sundays and will feature such classic hits as "Fly Me to the Moon," "Everybody Loves Somebody," "Mr. Bojangles," "New York New York," "That's Amore," "I've Gotta Be Me," "Ain't That a Kick in the Head," "I've Got the World on a String," "The Candy Man," "Luck be a Lady," "Birth of the Blues" and many more, in addition to comedy bits and hilarious banter.
Tickets range from $24 to $29. Hard Rock is located at 1000 Boardwalk in Atlantic City. Go to HardRockHotelAtlanticCity.com.
The E Street Shuffle to play free concert at Steel Pier
Bruuuuuce!!! The Steel Pier will host Asbury Park's own Springsteen tribute act The E Street Shuffle for a free concert 8 p.m. Friday, June 11, at the Ocean Reef Bar on the far end of the Steel Pier. Fans can expect note-for-note recreations of all the Boss' biggest hits as well as deeper cuts and a high-energy stage show that captures the true passion and intensity of a live Springsteen concert.
The Steel Pier is located at 1000 Boardwalk in Atlantic City. Go to SteelPier.com.
Loverboy brings the party to Hard Rock
Loverboy sparkling hard teas will flow freely from noon to 5 p.m. Sunday, June 13, as part of the kickoff for the summer at the Beach Bar at Hard Rock Hotel & Casino Atlantic City. Kyle Cooke, Amanda Batula, and Carl Radke of Loverboy and Bravo's hit reality series "Summer House" will be onsite, as well, celebrating alongside attendees. Cover is $10 at the door.
Hard Rock is located at 1000 Boardwalk in Atlantic City. For more info, go to HardRockHotelAtlanticCity.
Paddle for a Cause
On Saturday, June 12, approximately 75 participants will converge on Ski Beach in Ventnor Heights to partake in the Dean Randazzo Cancer Foundation's "Paddle for a Cause" event. Those looking to test their endurance can paddle in the 22-mile, around-the-island race. For those wanting something a little bit less grueling, there is the 6-mile paddle-at-your-own-pace option. as well as a kids division with a shorter paddle distance. And if team sports are more your speed, gather four to six friends and join the SUP-Squatch race.
The on-site afterparty will begin at 1 p.m. at the same location as the race. It will be hosted by Bocca Coal-Fired Pizza and will feature live music by Mel and Tony. Admission is free. Ski Beach is located at the end of Dorset Avenue in Ventnor Heights.
To register for the paddle, to make a donation or to sponsor a paddler, please visit the DRCF website at TheDRCF.org.
Doors Tribute, Van Halen Tribute at Landis
The Landis Theater in Vineland loads their schedule with a pair of classic rock tribute bands this weekend.
First up at 8 p.m. Friday, June 11, is The Soft Parade, a tribute to The Doors. The band has been around for decades and is well known for masterfully recreating the onstage mystery and unpredictability of one of the biggest American bands in history.
Then at 8 p.m. Saturday, June 12, the Landis will host Romeo Delight, a tribute to the music of '80s rock gods Van Halen.
Tickets for both shows are $30 each and can be purchased at TheLandisTheater.com. The Landis Theater is located at 830 E. Landis Ave. in Vineland.
Vaudeville Variety at East Lynne Theater
East Lynne Theater Company will host "Vaudeville Variety" 7 p.m. Saturday, June 12, as well as on various Saturdays throughout the summer. Join Susan Tischler, Holly Knapp and Will Knapp in this fun-filled show where they'll take you back to 1916 with such skits as "A Day at the Races," "The World's Greatest Knife Thrower" and a humorous take on housekeeping, along with songs of the period like "Moonlight Bay" and "Shine on Harvest Moon."
The location for the performance is outside at the West Cape May Borough's Back Yard, 732 Broadway in West Cape May. Tickets, which must be purchased in advance, are $25 and $20 for students and military. For more info, go to EastLynneTheater.org.
The Joni Project comes to outdoor Lizzie Rose concert series
The Pavilion in the Pines summer concert series continues for the Lizzie Rose Music Room as they host outdoor shows all summer long. At 7:30 p.m. Friday, June 11, The Joni Project, a tribute to the sound and spirit of the legendary Joni Mitchell will perform.
Tickets are $30 in advance and $35 day of show and can be purchased at LizzieRoseMusic.com. The Pavilion in the Pines is located at Atlantic Shore Pines Campground, at 450 Ishmael Road in Tuckerton.
Magic & Mystery House Tour at Physick Estate
Take a step back in time to the Victorian Era this summer for the Magic & Mystery House Tour at the Emlen Physick Estate to learn about the Victorians' fascination with magic, illusion, the mysterious and the odd. Visitors will hear about the Great Lafayette, arguably the world's greatest magician; Houdini, the astounding escape artist; Ionia, the Goddess of Mystery; and can decide for themselves whether Pepper's Ghost is real, or just an Illusion.
Attendees will also learn about Sherlock Holmes, Jack the Ripper and more. Evening tours are offered Tuesdays and Thursdays in June; and Fridays and Saturdays in July and August. Tickets are $20 for adults and $15 for children ages 3 to 12. Go to CapeMayMac.org to purchase tickets or for more information. The Emlen Physick Estate is located at 1048 Washington Street in Cape May.
ARC celebrates 60 at the Nugget
The Arc of Atlantic County will host Celebrate 60 from 6 to 9 p.m. Thursday, June 10, outside at The Deck at Golden Nugget Atlantic City.
Celebrate 60 will pay tribute to The Arc of Atlantic County's 60 years of serving individuals living with intellectual and developmental disabilities (IDD) and their families. Guests will enjoy an evening of great food, beverages, live entertainment and dancing overlooking the Frank S. Farley Marina. There will also be a silent auction, unique sports memorabilia, a 50/50 raffle and more.
Proceeds from the event will benefit the mission of The Arc of Atlantic County.
Tickets are $75 per person and are available at TheArcAtlantic.org/celebrate. Golden Nugget is located at 600 Huron Ave. in Atlantic City.
Chanel No. 5 exhibit in OC Chanel No. 5
Exhibit in OC Many of the area's best artists will participate in the Ocean City Arts Center's annual invitational themed show "Chanel No. 5," which runs throughout the month of June.
Artists have been asked to paint an image that represents the making or marketing of the most famous perfume in the world, Chanel No. 5. Created by Parisian fashion designer Coco Chanel, the No. 5 in the name comes from samples perfumer Ernest Beaux presented to Ms. Chanel for her approval. She chose the fifth sample that he presented, thus the name Chanel No. 5. The fragrance quickly became the best-selling perfume in the world.
Two award receptions will be held at 6 and 7 p.m. Friday, June 11. For further information or to make an awards reception reservation, call 609-399-7628. The Arts Center is located at 1735 Simpson Ave., Ocean City.