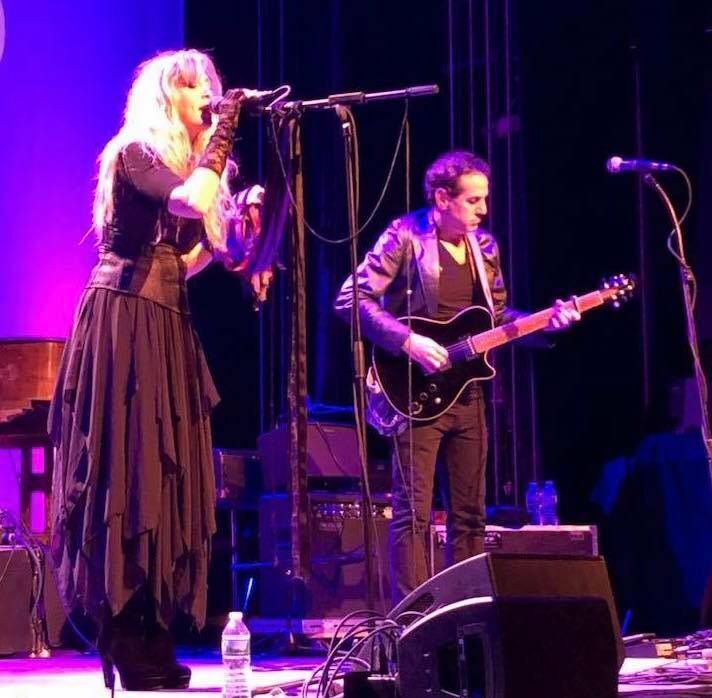 Fleetwood Macked at Landis
The Landis Theater once again comes through with a tribute act to make your weekend rock just a little more. At 8 p.m. Saturday, March 20, Fleetwood Macked, a tribute to - you guessed it - Fleetwood Mac, will hit the stage at the Landis Theater. Fleetwood Macked masterfully tackles the complex harmony structure and instrumentation of the band while pulling off note-for-note renditions of all the band's biggest hits including "Go Your Own Way," "Gypsy" and "Dreams" among others.
Tickets are $30 and can be purchased at TheLandisTheater.com. The Landis Theater is located at 830 E. Landis Ave. in Vineland.
Hard Rock Motown Show is back — with a shot of love — at Hard Rock
The popular Motown show "Motor City Live" is back at Hard Rock Hotel & Casino Atlantic City. The revised production features about 50 percent new material compared to its previous run. Produced by Allen Valentine, expect Motown renditions of timeless love songs such as "Reach Out (I'll Be There)," "This Old Heart of Mine," "Please Mr. Postman" and more.
Held under strict "Safe + Sound" guidelines, showtimes are 4 and 8 p.m. Saturdays, and 4 p.m. Sundays through Memorial Day weekend. "Motor City Live" features a live band and a cast of extraordinary singers and dancers. Tickets are $29 and is sold as tables of two or four seats to ensure social distancing. Masks are required at all times except when drinking beverages, are offered by servers. Hard Rock is located at 1000 Boardwalk in Atlantic City. Tickets are available at HardRockHotelAtlanticCity.com
Alternative guitar summit 2021 to honor Pat Martino
Twelve guitarists will honor one of the great living masters of the guitar, Pat Martino, via streaming 8 p.m. Saturday, March 20. Five sets of duos will play two of Martino's compositions, including Adam Rogers and Peter Bernstein, Dave Stryker and Paul Bollenback, Rez Abbasi and Jeff Miles, Oz Noy and Nir Felder, and Sheryl Bailey and Ed Cherry.
Special guests Kurt Rosenwinkel, Joel Harrison and Howard Paul of Benedetto Guitars will play solo. The rhythm section will include Dezron Douglas, Allan Mednard, Chulo Gatewood and Tobias Ralph.
The concert can be viewed online with a "pay-what-you-wish" fee system at boxoffice.mandolin.com/collections/alternative-guitar-summit-2021
For more info, go to AlternativeGuitarSummit.com/concerts
Walking tours return to Historic Cold Spring Village
Historic Cold Spring Village in Cape May once again offers walking tours this spring with a few extras included.
Guests can enjoy beautiful weather as they take a guided walk through a portion of Historic Cold Spring Village and experience the mystique of days gone by. Folks will learn the history of several of the Village buildings and the lifestyles of those who worked and lived within their walls. Afterward, visit the Country Store to purchase souvenirs of the village and enjoy a complimentary mini-flight tasting of beer, sarsaparilla or water at Cold Spring Brewery. Tours are offered 11 a.m. Thursdays through Sundays from March 20 to June 18. Cost is $12 for adults or $10 for children ages 3 to 12. Members receive a $2 discount. Tours begin at the Seashore Road/Route 626 Gate House. To purchase tickets in advance, go to HCSV.org. Cold Spring Brewery is located at 733 Seashore Road in Cape May.
East Lynne presents 'Something to Vote For'
East Lynne Theater Company presents a virtual reading of "Something to Vote For," directed by Gayle Stahlhuth, 8 p.m. Thursday, March 18. This 50-minute play with a cast of 10 was written by Charlotte Perkins Gilman in 1911 and is one of a handful of American Suffrage plays still in existence. The reading will be available to watch for free at any time through Sunday, March 21, at TinyURL.com/ELTCYouTube. For more info, go to EastLynneTheater.org.
O.C. Arts Center to feature works of one of its own
Ocean City Arts Center teacher Christine O'Brien is exhibiting her oil, oil pastels and mixed media artwork at the Arts Center now through March 31.
A Stockton graduate and native of Margate, O'Brien has taught art to children of all ages since 1998 and currently teaches two classes at the Ocean City Arts Center. She has developed an art form she calls "Squigglism," which is created by making tiny squiggles in the shape of the letter "S" using overlapping colors on black paper. O'Brien works with a variety of mediums and credits her style to teaching children's art classes, where many of her ideas for her own work come to life.
The Ocean City Arts Center is located at 1735 Simpson Ave. in Ocean City. For more info, go to OceanCityArtsCenter.org or call 609-399-7628.
Somers Point Arts Commission hosts photo exhibit
The second floor walkway at Shore Medical Center in Somers Point now features an exhibit from local photographers showcasing images that illustrate the vitality and diversity of life in Somers Point.
The show, titled "Somers Point 20/20," is presented by the Somers Point Arts Commission. However, due to COVID visitor restrictions at the hospital, the exhibit is not currently open for public view. But fear not, as art lovers can still check it out online, as a slideshow of the full exhibit is currently available on the Arts Commission website at SomersPtArts.weebly.com.
Poster Exhibition at Noyes Museum tells story of Poor People's Campaign of 1968
The Noyes Museum of Art at Stockton University Kramer Hall presents the exhibit "City of Hope: Resurrection City and the 1968 Poor People's Campaign," which will be on display now through Sunday, May 9.
The poster exhibition examines the Poor People's Campaign — a grassroots, multiracial movement that drew thousands of people to Washington, D.C., for 43 days between May and June 1968, as demonstrators demanded social reforms while living side by side on the National Mall in a tent city known as Resurrection City.
The City of Hope exhibition is open to the public during Kramer Hall hours, 8:30 a.m. to 8 p.m. Mondays and Thursdays, and 8:30 a.m. to 5 p.m. Tuesdays, Wednesdays and Fridays. Kramer Hall is located at 30 Front St. in Hammonton. Face coverings are required, and social distancing protocols are in place. A virtual exhibition will also be available on the Noyes Museum website at NoyesMuseum.org.
Stockton Art Gallery features works inspired by 'Red Summer' of 1919
An exhibition of artwork that examines racial inequality in America is on display at the Stockton University Art Gallery through Thursday, April 1.
Seventy-three pieces by New Jersey artists Casey Ruble and Wendel White are featured in the exhibition titled "The Question the Answer Hides." Most are from the two artists' respective "Red Summer" projects, referencing the 1919 race riots and attacks on Blacks who migrated from the South for work after World War I.
The art gallery, located in L-wing on the Galloway campus, is open 11 a.m. to 4 p.m. Mondays through Fridays, and 11 a.m. to 6 p.m. Saturdays. Face coverings are required. Weekday visitors must get a virtual parking permit at Visitor.Stockton.edu. Stockton University is located at 101 Vera King Farris Drive in Galloway. For more info, go to Stockton.edu/ art-gallery.