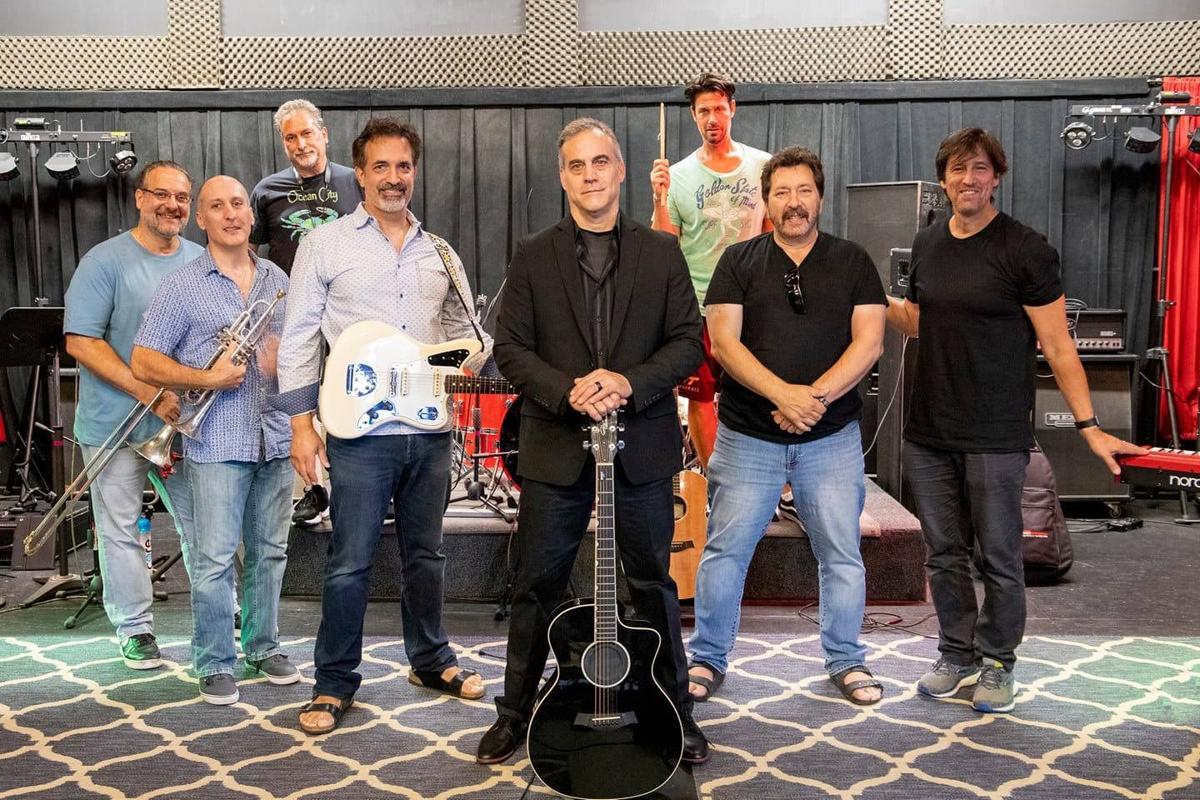 So Good! comes to the Landis
The Landis Theater in Vineland once again offers up a fun live concert tribute to one of your favorite artists from back in the day.
At 8 p.m. Friday, March 26, the Neil Diamond tribute act So Good! The Neil Diamond Experience takes the stage with Broadway, TV and film star Robert Neary leading the group in the role of Diamond. So Good! will perform all your favorites from one of the most treasured voices in American music, such as "Sweet Caroline," "Cracklin' Rosie" "Heartlight" and more.
Tickets are $30 and can be purchased at TheLandisTheater.com
A virtual Garden State Film Festival
The internationally recognized Garden State Film Festival (GSFF) celebrates the independent film genre with a carefully curated selection of original works to a diverse audience from around the world from now through Sunday, March 28.
All scheduled film screenings are presented via live streaming online in a dynamic digital format. Among the selection of over 300 feature length and short films, videos, documentaries, comedies, children's, thrillers, student films and "home-grown" films shot in NJ is "Gossamer Folds," a film directed by Nick Smith and featuring Award Winning Actor Franklin Ojeda Smith, both of who are from Atlantic City. "Gossamer Folds" will screen from 4:15 to 6:30 p.m. on Saturday, March 27.
Folks may purchase a virtual multi-pass that grants access to all virtual films through March 28, for $55, or choose a single two-hour screening block for $20.
For tickets and more information, go to GSFF.org.
Cruise: An Artistic Drive Thru Experience in A.C.
Looking to add a bit of colorful culture to an otherwise ordinary day? Then hop in your favorite ride and head to Cruise: An Artistic Drive Thru Experience, which runs from 11 a.m. to 11 p.m. daily through Monday, April 5, at The Noyes Arts Garage of Stockton University in Atlantic City.
Cruise combines a variety of visual and sonic elements and presents them in a drive-thru format, all contained within the four levels of the Arts Garage. Guests can expect to see everything from paintings to lasers to live performances from DJs and Broadway singers to a room filled with thousands of bubbles.
Cost is $27.50 per car for daytime version, $45.50 per car for night version. Tickets must be purchased online in advance at CruiseThruEvents.com.
The Noyes Arts Garage of Stockton University is located at 2200 Fairmount Ave. Atlantic City.
Hard Rock Motown Show is back — with a shot of love — at Hard Rock
The popular Motown show "Motor City Live" is back at Hard Rock Hotel & Casino Atlantic City. The revised production features about 50 percent new material compared to its previous run. Produced by Allen Valentine, expect Motown renditions of timeless love songs such as "Reach Out (I'll Be There)," "This Old Heart of Mine," "Please Mr. Postman" and more.
Held under strict "Safe + Sound" guidelines, showtimes are 4 and 8 p.m. Saturdays, and 4 p.m. Sundays through Memorial Day weekend. "Motor City Live" features a live band and a cast of extraordinary singers and dancers. Tickets are $29 and is sold as tables of two or four seats to ensure social distancing. Masks are required at all times except when drinking beverages, are offered by servers. Hard Rock is located at 1000 Boardwalk in Atlantic City. Tickets are available at HardRockHotelAtlanticCity.com
Walking tours return to Historic Cold Spring Village
Historic Cold Spring Village in Cape May once again offers walking tours this spring with a few extras included.
Guests can enjoy beautiful weather as they take a guided walk through a portion of Historic Cold Spring Village and experience the mystique of days gone by. Folks will learn the history of several of the Village buildings and the lifestyles of those who worked and lived within their walls. Afterward, visit the Country Store to purchase souvenirs of the village and enjoy a complimentary mini-flight tasting of beer, sarsaparilla or water at Cold Spring Brewery. Tours are offered 11 a.m. Thursdays through Sundays from March 20 to June 18. Cost is $12 for adults or $10 for children ages 3 to 12. Members receive a $2 discount. Tours begin at the Seashore Road/Route 626 Gate House. To purchase tickets in advance, go to HCSV.org. Cold Spring Brewery is located at 733 Seashore Road in Cape May.
O.C. Arts Center to feature works of one of its own
Ocean City Arts Center teacher Christine O'Brien is exhibiting her oil, oil pastels and mixed media artwork at the Arts Center now through March 31.
A Stockton graduate and native of Margate, O'Brien has taught art to children of all ages since 1998 and currently teaches two classes at the Ocean City Arts Center. She has developed an art form she calls "Squigglism," which is created by making tiny squiggles in the shape of the letter "S" using overlapping colors on black paper. O'Brien works with a variety of mediums and credits her style to teaching children's art classes, where many of her ideas for her own work come to life.
The Ocean City Arts Center is located at 1735 Simpson Ave. in Ocean City. For more info, go to OceanCityArtsCenter.org or call 609-399-7628.
Somers Point Arts Commission hosts photo exhibit
The second floor walkway at Shore Medical Center in Somers Point now features an exhibit from local photographers showcasing images that illustrate the vitality and diversity of life in Somers Point.
The show, titled "Somers Point 20/20," is presented by the Somers Point Arts Commission. However, due to COVID visitor restrictions at the hospital, the exhibit is not currently open for public view. But fear not, as art lovers can still check it out online, as a slideshow of the full exhibit is currently available on the Arts Commission website at SomersPtArts.weebly.com.
Poster Exhibition at Noyes Museum tells story of Poor People's Campaign of 1968
The Noyes Museum of Art at Stockton University Kramer Hall presents the exhibit "City of Hope: Resurrection City and the 1968 Poor People's Campaign," which will be on display now through Sunday, May 9.
The poster exhibition examines the Poor People's Campaign — a grassroots, multiracial movement that drew thousands of people to Washington, D.C., for 43 days between May and June 1968, as demonstrators demanded social reforms while living side by side on the National Mall in a tent city known as Resurrection City.
The City of Hope exhibition is open to the public during Kramer Hall hours, 8:30 a.m. to 8 p.m. Mondays and Thursdays, and 8:30 a.m. to 5 p.m. Tuesdays, Wednesdays and Fridays. Kramer Hall is located at 30 Front St. in Hammonton. Face coverings are required, and social distancing protocols are in place. A virtual exhibition will also be available on the Noyes Museum website at NoyesMuseum.org.
Stockton Art Gallery features works inspired by 'Red Summer' of 1919
An exhibition of artwork that examines racial inequality in America is on display at the Stockton University Art Gallery through Thursday, April 1.
Seventy-three pieces by New Jersey artists Casey Ruble and Wendel White are featured in the exhibition titled "The Question the Answer Hides." Most are from the two artists' respective "Red Summer" projects, referencing the 1919 race riots and attacks on Blacks who migrated from the South for work after World War I.
The art gallery, located in L-wing on the Galloway campus, is open 11 a.m. to 4 p.m. Mondays through Fridays, and 11 a.m. to 6 p.m. Saturdays. Face coverings are required. Weekday visitors must get a virtual parking permit at Visitor.Stockton.edu. Stockton University is located at 101 Vera King Farris Drive in Galloway. For more info, go to Stockton.edu/ art-gallery.