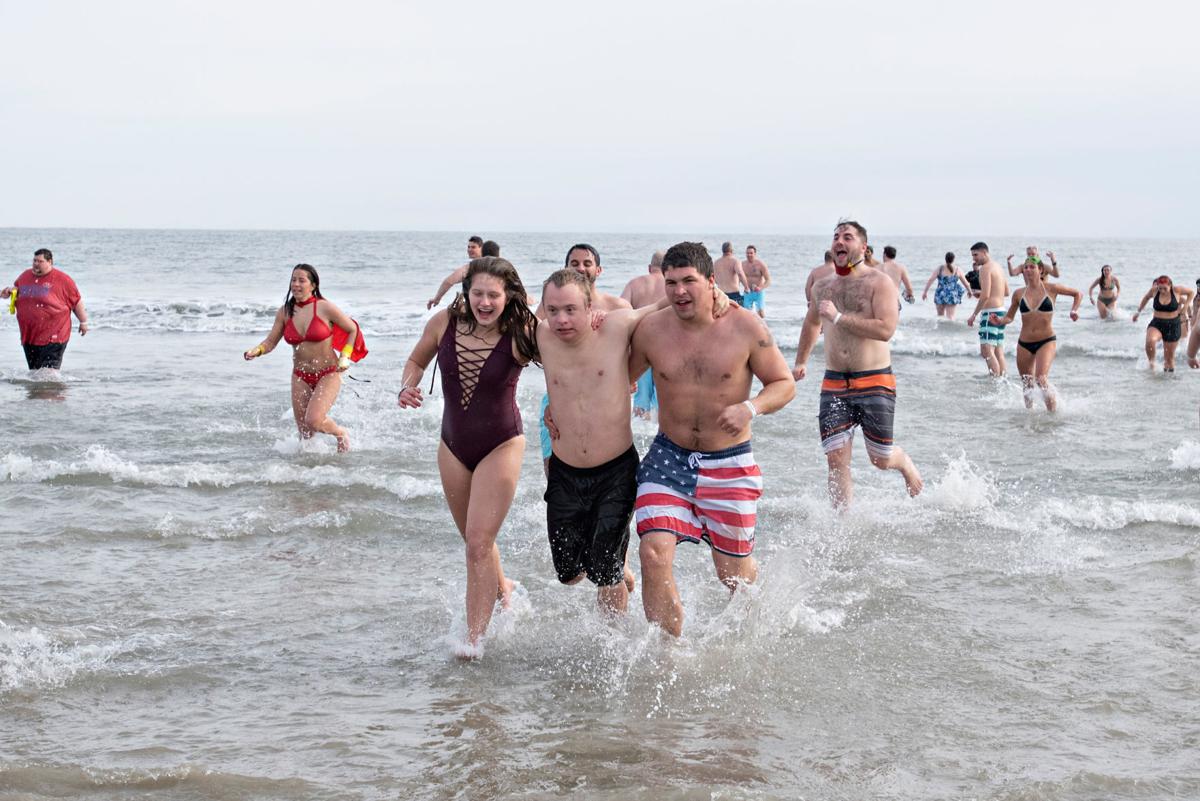 The Wildwoods
Annual Polar Bear
Plunge Returns
Benefitting Special Olympics New Jersey, The Wildwoods Annual Polar Bear Plunge returns 1 p.m., Saturday, Jan. 15, on the beach behind The Wildwoods Convention Center. The Polar Bear Plunge is free for spectators, but Early Bear plungers must raise $100 in pledges to participate in the event. Early registration is available at PlungeWildwood.org.
Additional registration and donations will be accepted on site the day of the event. Participants and children under age 12 can enjoy a free lunch immediately following the Plunge inside the Convention Center.
Check in will take place 10 a.m. to 12:45 p.m. inside the Convention Center before the event at 4501 Boardwalk, Wildwood. Plunge Wildwood.org.
Martin Luther King, Jr.
Day of Service at Stockton
The Dr. Martin Luther King, Jr. Day of Service is Stockton University's signature annual day of bringing together more than 900 students, community members and community partners for more than 25 projects both on and off campus. Remote and in-person projects are available, though due to Covid-19, all in-person, on-campus, and select off-campus projects will be restricted to students and staff only.
The Day of Service begins 9 a.m., Monday, Jan. 17, and takes place at Stockton's Galloway, Atlantic City and Hammonton campuses. Register to participate at Stockton.Edu/Engagement/MLK-Day.html.
Martin Luther King, Jr. Ceremony in O.C.
Ocean City's Martin Luther King, Jr. Ceremony will bring the community together to honor the service and legacy of Dr. King oon, Monday, Jan. 17, at the Ocean City Music Pier.
825 Boardwalk, Ocean City. OCNJ.US
O.C. Arts Center Exhibits works by Tim Faherty
The Gallery at the Ocean City Arts Center kicks off the new year with a solo show featuring work of painter Tim Faherty. Working in oil, acrylic and pastel, Faherty conveys the life and light of this uniquely beautiful area.
The Show, titled "Tidelands" — a name that sums up Faherty's fascination with the southern New Jersey shore — runs through Jan. 29 with A "Meet the Artist" Reception 7 to 8:30 p.m. Friday, Jan. 14. Gallery hours are 9 a.m. to 9 p.m., Monday through Friday, and 9 a.m. to 3 p.m., Saturday. For further information, call 609-399-7628.
1735 Simpson Ave., Ocean City. OceanCityArtsCenter.org.
Vintner Wonderland
Kicks off at Renault
Renault Winery's much-anticipated winter festival continues through January. With ice skating, festive food and beverages, live entertainment, historic vineyard tours and special events, it's fun for the whole family. And, in addition to regular dining in the Champagne Patio Garden and Tasting Room, Renault offers dining at private fire pits, cabanas, and champagne bubbles.
Located at 72 N. Bremen Ave., Egg Harbor City. RenaultWinery.com.
O.C. Fine Arts League presents the 'Judges' Art Show and Exhibition
Throughout January, the Ocean City Fine Arts League presents the chance to see and purchase the award-winning artwork of the esteemed judges who selected the winners in Art Shows and Exhibitions at the Art on Asbury Gallery in 2021. Featured throughout the month of January are Lance Balderson, Michael Waters, Cheryl Knowles Harrigan, Marie Natale, Molly Carpenter, Sydnei Smith Jordan and Joe Milligan. (Other judges were Jill Cucci and Diane Tomash).
Open daily, the gallery showcases watercolor, glass, mixed media, pottery, photography, oil, acrylic, textiles, jewelry and sculpture made by professional local artisans.
Located at 711 Asbury Ave., Ocean City.OceanCityFineArtsLeague.org.
Absecon Lighthouse
turns 165
Absecon Lighthouse, New Jersey's tallest lighthouse and the country's third tallest masonry light, is celebrating its 165th anniversary of the lighting of its historic first-order Fresnel Lens, which was first lit on January 15, 1857. In celebration, the lighthouse is hosting a "Facebook Live" Virtual Climb 1:30 p.m., Saturday, Jan. 15, as well as a "two-for-one" climbing special for in-person guests.
Located at 31 S. Rhode Island Ave., Atlantic City. AbseconLighthouse.org.