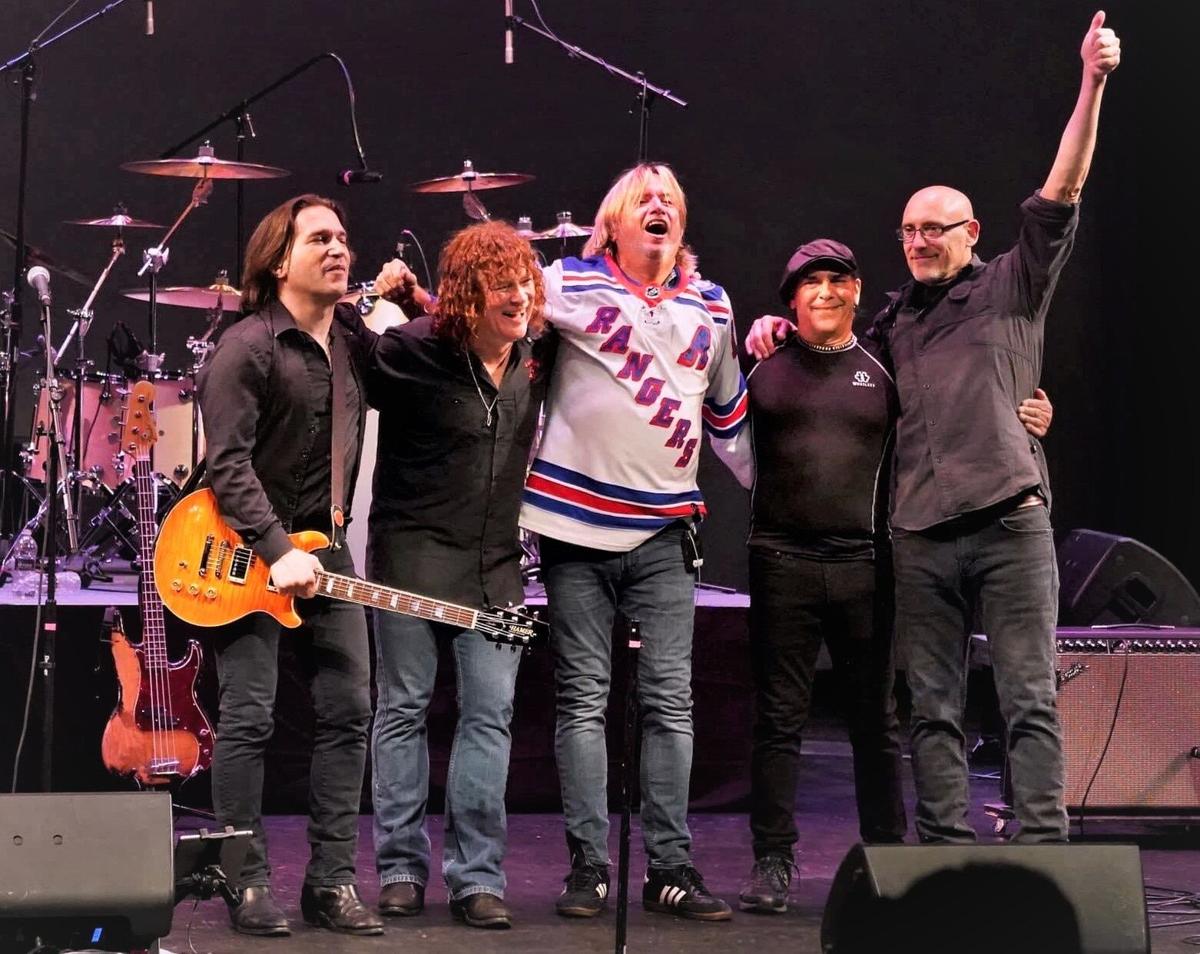 Formed by the former keyboardist and musical director for Frankie Valli and the Four Seasons back in 2010, the Hit Men – who perform 7:30 p.m. Friday, Oct. 14, at Stockton University's Performing Arts Center – is a five-man band whose past combined partnerships with rock 'n' roll's elite might easier be identified by ruling out who they have not performed with than who they have.
The list of collaborations is staggering, and these are not simply upper-echelon players cherrypicked out of famed studio groups like the Wrecking Crew of Los Angeles or the Swampers of Muscle Shoals. Past histories include session work, but much of it was being on the road and in the trenches with the likes of Richie Blackmore of Deep Purple, John Entwistle of the Who, Jack Bruce of Cream, Chuck Negron of Three Dog Night, Glenn Fry of the Eagles, Billy Joel, Alice Cooper, Ted Nugent, Elton John, Tommy James – and the list goes on and on.
In some cases, the Hit Men split their touring availability with other bands, such as guitarist Tommy Williams, who is also a member of Philly's famed rockers The Hooters. The other Hit Men include drummer and musical director Steve Murphy, keyboardist Mike DiMeo, guitarist Mark Newman and bassist Greg Smith.
All five members sing backup and alternate lead, depending on the bands/artists they are or were personally associated with. Past Hit Men set lists have included such hits as "For Your Love" by the Yardbirds, "Feels Like the First Time" by Foreigner, "Draggin' the Line" and "I Think We're Alone Now" as part of a Tommy James & the Shondells medley, "Don't Stop Believin'" by Journey, "Day After Day" by Badfinger, "Eye in the Sky" by the Alan Parsons Project, "Some Kind of Wonderful" by Grand Funk Railroad, "I Want You to Want Me" by Cheap Trick, "Big Shot" by Billy Joel, and several others.
New Jersey native Lee Shapiro was a member of Frankie Valli and the Four Seasons from 1973 to 1981 as the group's keyboardist and musical director. His idea to launch the Hit Men was partially inspired by the Broadway hit musical dramatization of the Four Seasons "Jersey Boys," which ran on Broadway from 2005 to 2017 and was co-produced by former Four Seasons' member Bob Gaudio, who wrote or co-wrote most of the Four Seasons' biggest hits.
"When I met Frankie, I was 19 and he was 38," says Shapiro, who was also a member of Tommy James and the Shondells from 1981 to '83. "I've been friendly with Frankie for 50 years, and back when 'Jersey Boys' was just hitting its stride, he invited me to an album recording session in the city that was like an all-star cast – a lot of brilliant, brilliant people.
"I had a jingle company at the time that Frankie was recording his album, and I said to him, 'People are asking me all the time, with the success of 'Jersey Boys,' why haven't you been on the road? So I told him I was thinking of putting a group together and doing the music that we did together with him."
Valli explained that there were restrictions in place that limited the number of Four Seasons songs that talented tribute groups such as the Midtown Men and Under the Streetlamp were permitted to perform live while "Jersey Boys" was still in production.
"I told him I understood," Shapiro says. "Then he says to me, 'But that's not you.' I asked him what he meant, and he says 'You were one of the Four Seasons. With you it's biographical and it's about you. You can do whatever you want.' So he gave me his blessing, I kissed the (metaphorical) ring, I got (former Four Seasons members) Gerry Polci and Don Ciccone together, and we started the Hit Men in 2010 with three of the Four Seasons.
"And it kicked ass," he adds.
When Covid struck in 2020, the Hit Men were waylaid like all other live acts were around the world. Undeterred, the group emerged under Shapiro's guidance – now strictly from a managerial standpoint – with the current players whose experience spans the gamut of rock history.
"These guys are not a tribute, they're playing the music that they played with the original artists, and that makes it awfully authentic," Shapiro says. "The show features a video component with classic footage of these guys singing with the groups they performed with as they perform it now. It's time travel, it's nostalgia, you close your eyes and you're there.
"I can guarantee you one thing," Shapiro adds. "You'll will leave this show feeling happier and younger than when you got there."
I spoke with current Hit Man, drummer and music director Steve Murphy, in advance of Friday's show:
Ray Schweibert: Can you talk about how you and the other current Hit Men got together?
Steve Murphy: When Covid hit it almost went away, like so many other things, and they were getting ready to hang it up as a band. Up to then, people were coming out to see the Frankie Valli stuff, the Tommy James stuff, the Carly Simon stuff (original Hit Men guitarist Jimmy Ryan was Carly Simon's musical director and band member for more than 20 years), and people were eating that stuff up. It was great.
But evolution is a natural part of the process. To keep this machine going, I was singing most of the Frankie hits that we were doing at the time, plus I was singing more and more of what I had been part of personally, and some songs that the others had been part of got mixed in as we went along.
(Lee's) idea was that why don't you build the band around yourself, with musicians that you feel super comfortable playing with? The resumés of all these guys are incredible and they're all extremely versatile and well-rounded musicians. We're lucky to have them all.
We didn't have video presentation like we do now, we didn't have the storytelling wrapped up into a show the way it is now. That adds another element that people love.
RS: With so much combined experience playing with so many classic bands, how do you devise a set list?
SM: Many of the people who have been coming out to see the Hitmen for eight or nine years, you've got to give them something to come back for that was previously on the menu that they loved. So you've got put your head down and think "what will make the crowd happiest but then also be not too typical?" We want to stand out and do some cuts that aren't the most typical but are still great crowd pleasers, such as "I Won't Hold You Back" by Toto. That's one of those songs where people think "Oh yeah, I forgot that they did that one." You've got to balance it out.
RS: I've always admired guys like Levon Helm and Phil Collins who could play drums and sing lead at the same time. How tough is it to split your concentration like that?
SM: To me it was a one-hand-washing-the-other-hand deal, and still is. It's either that I'm locking in with myself, landing on the beat with my vocal emphasis, or I'm playing in between it with a verse, and almost forgetting that I'm also playing drums.
RS: Lee Shapiro related a funny story about asking a college professor if he should go out on tour with Frankie Valli and the Four Seasons back in the early '70s. She said she never heard of them before, but if he's getting paid to play, compose and travel, he should do it. Since his parents held that teacher in high regard, they gave him their OK. Have your parents always backed your decision to be a professional musician?
SM: Absolutely, I spent a year without drums at all, in our move from New York to Florida in 1977 when I was 12. I'd call that the worst thing my parents ever did in support of my musicianship, and of course it wasn't really a bad thing at all. It was unavoidable at the time. The universe didn't revolve around me playing drums. But they knew that I was on that path to being a drummer and, in time, they got me another set and continued to encourage me.
They loaded my drums into the back of a Toyota Corolla hatchback and drove me to dozens of local venues, even bars where I had to get special waivers to play there since I was only 13. It was incredible support in that department, and still is to this day.
My dad passed six years ago, but the studio I use is part of the house my mom lives in now, and she still supports me to this day. She loves hearing me mix things that we do with the Hit Men. She loves coming to shows. Anything I do she loves. I owe a lot to my brother, sister and parents, because they put up with a lot when I was learning to play.