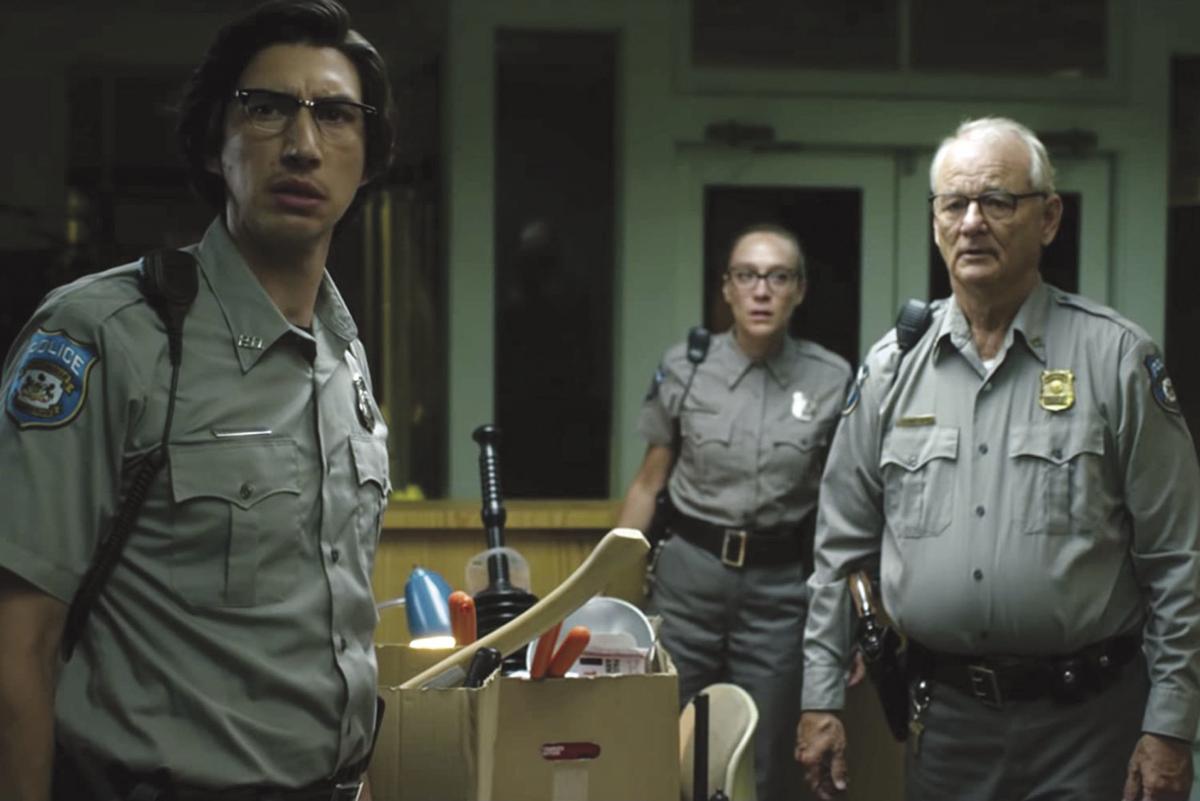 For the first time since this column's debut, I review four movies, two that were supposed to be released in theaters but instead went directly to streaming because of the pandemic: a Spike Lee joint about Vietnam and a heartfelt dramedy by Judd Apatow. I also tell you about a Bill Murray zombie flick you may have never heard about, as well as a movie starring a pro wrestling superstar that should be avoided at all costs.
On demand
"The King of Staten Island" (Rated R, 2020, 136 minutes, direct purchase on any streaming device) — Judd Apatow films are hit and miss. Some are funnier ("The 40 Year Old Virgin") than others ("This Is 40"), but most of them — even the ones he just produces — have this underlying heart.
The director's latest, "The King of Staten Island," has a lot of heart and maybe not enough laughs, but the heart makes it worth recommending.
The story is based on its star Pete Davidson's ("Saturday Night Live") story. The comedian has long discussed how his father, a firefighter, died in 9/11, which really messed him up, as you could imagine. "The King of Staten Island" removes the 9/11 part but pretty much keeps everything else minus the comedian's success.
In "King," Davidson plays Scott, a struggling tattoo artist whose dad died when he was 7 fighting a fire. Now in his mid-20s, he's pretty much a loser, living with his mom, not capable of intimate relationships and annoyed by his overachieving sister.
His world of depending on Mom (Marisa Tomei) falls apart when she falls for another firefighter (fellow comedian Bill Burr), who has no sympathy for Scott and convinces Scott's mother to stop babying him.
Davidson, despite being a mediocre stand-up comic, delivers a great performance in his first major film starring role. Yes, he's basically playing himself, but his scenes with Tomei are touching and real, his scenes with Burr are funny and convincing, and his overall performance will move you.
It helps that he's surrounded by such great talent, including Apatow, who knows his way around emotional comedy. But, in typical Apatow fashion, the movie is way too long, clocking in at more than 2 hours and 15 minutes when 90 minutes would have probably sufficed.
"The King of Staten Island" is not Apatow's best, but it proves Davidson can be a leading man, that Burr is developing into a fine actor and that we all need some hope in this crazy world.
Rating: B
Streaming services
"The Dead Don't Die" (Rated R, 2019, 103 minutes, Amazon Prime) — I am not sure how this one got past me, but one of my favorite directors, Jim Jarmusch ("Coffee and Cigarettes"), made a zombie movie with some of my favorite celebrities on the planet: Bill Murray, Adam Driver, Tilda Swinton, Steve Buscemi, Chloe Sevigny, Danny Glover, Rosie Perez, Carol Kane, RZA, Selena Gomez, Tom Waits and even Iggy Pop!
But it did, so to say I was giddy to get to Amazon Prime and delve into Jarmusch's absurd version of "The Walking Dead" was an understatement. And while others were not as impressed, I think "The Dead Don't Die" is imperfect yet brilliant — about what you expect from Jarmusch.
The plot is as simple as plots get: Due to polar fracking, the world tilts off its axis and the dead come back to life. The entire movie takes place in some podunk town called Centerville, where local police officers Cliff (Murray) and Ronnie (Driver) respond to a complaint from farmer Frank (Buscemi) about a missing chicken.
After initially blaming Bob the Hermit (Waits), who lives in the woods, they notice it's still daylight after 8 p.m., that their phones don't work anymore and other farm animals are behaving oddly.
Before you know it, it's full zombie armageddon, which is really an excuse for Jarmusch to have fun with this amazing cast, letting Murray and Driver annoy each other and possibly ad-lib, even referencing that they are in a film and recognizing that their theme song "The Dead Don't Die" from Sturgill Simpson — a repeated joke — is the only thing playing on their radio.
Before the flick is over and basically everyone gets eaten, you encounter a ninja mortician (Tilda Swinton) and zombies who crave coffee (Pop) and chardonnay (Kane). Sure, there are some gruesome deaths, but there are way more laughs in that dry, meandering, slow Jarmusch delivery that also absurdly warns everyone about society's environmental destruction. Yes, it's weird, but it's also very witty. Yes, we might all be zombies, but these are the zombies I would want to hang with.
Rating: B+
"Da 5 Bloods" (Rated R, 2020, 156 minutes, Netflix) — There couldn't be a more appropriate time for a movie from not just the most important black filmmaker of all time but one of the best filmmakers period.
Spike Lee, the master who brought us "Do the Right Thing," "Jungle Fever" and other brilliant films that not only feature predominately black casts but tell meaningful stories about black men and women in America, follows up the amazing "BlacKKKlansman" with "Da 5 Bloods." On the surface, the movie looks like a pretty straightforward flick about black Vietnam War vets returning to the place where they lost way more than just a friend, but, in typical Lee fashion, is about so much more.
"Da 5 Bloods" is not Lee's best film by a long shot, but it's damn good thanks to Lee's ability to interweave historical footage — coincidentally many featuring African Americans who have been abused and murdered by the government and police — with the current story he's telling.
"Da 5 Bloods" showcases the Academy Award winner focusing on four black Vietnam Vets — Paul (Delroy Lindo), Otis (Clarke Peters), Eddie (Norm Lewis) and Melvin (Isiah Whitlock Jr.) — who return to Vietnam to search for the remains of their fallen squad leader (Chadwick Boseman) as well as a chest of gold they buried when serving.
The gold part, an essential part of this story, may be where Lee went wrong. A film about four Vietnam vets returning to honor their friend may have been enough emotional fuel. Instead, "Da 5 Bloods" awkwardly turns into a battle of greed, complete with betrayals, shootouts, kidnappings and some silly moments.
Luckily, Lee enlisted some heavy hitters to carry the acting load, particularly Lindo ("Malcolm X") as the deeply disturbed Paul, and Peters ("The Wire") as the sensible Otis.
Despite the wrong turns and identity crisis — what does this movie truly want to be? — "Da 5 Bloods" is sometimes poignant, always well-acted and particularly powerful with the recent racial tensions in our nation.
Rating: B
Not worth your time
"Stuber" (Rated R, 2019, 105 minutes, HBO and HBO Max) — We all need to take our minds off the anxieties of life. And while you may think "Stuber" — an oddball comedy featuring the always funny Kumail Nanjiani ("Silicon Valley") and WWE superstar Dave Bautista ("Guardians of the Galaxy") — may be just what the pandemic doctor ordered, believe me when I tell you it's not.
"Stuber" is so bad, so awful, so nearly impossible to sit through its short 105-minute run time that my wife and I made it a personal challenge to see if we could finish the entire movie.
How this got made in the first place is one of the greatest mysteries of all time. The premise is like a modern day Mr. Magoo if Magoo was a muscle-bound goliath of a policeman.
To explain the plot would be an exercise in futility, but the basic premise is that Bautista plays a cop who has eye surgery and depends on his Uber driver (Nanjiani) to drive him around to catch a brutal killer. If you think that sounds good, then you need to reevaluate your entertainment threshold.
Unfunny, boring and eye-rolling in a bad way, "Stuber" is plain stupid.
Rating: F
Follow Scott Cronick on Twitter @ACPressCronick
Be the first to know
Get local news delivered to your inbox!