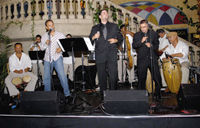 What began as nightly entertainment designed to appeal primarily to Atlantic City's burgeoning Latin-American community has evolved into a cultural phenomenon enjoyed by guests from all ethnic upbringings and walks of life.
The Late Night Latin Floor Show, a staple of The Quarter at Tropicana since Cuba Libre Restaurant and Rum Bar came on the scene in late 2004, has fortified its Friday night itinerary with live Latin bands beginning 11pm. A different Latin ensemble will perform every Friday for the rest of August. The likely exception will be the final weekend of the month, Labor Day weekend, when La DiCupe II and Edgardo Cintron & the Azuca Band team up for a special presentation Sunday, Aug. 31.
The Latin Floor Show started with professional salsa dancers in vivid costumes performing a couple of choreographed sets every Friday and Saturday night. About a year ago, Cuba Libre "kicked it up a notch" with the Late Night Latin Floor Show II, which included a larger cast of dancers and other elements like percussionists and solo artists. The establishment began adding a live band on the first Friday of every month, and it was such a smashing sensation that it was incorporated every Friday with a revolving slate of top-flight musicians specializing in the genres of Latin jazz and salsa.
"Cuba Libre's always been known for its Latin floor show, but it really took off when we started incorporating a Brazilian theme with Brazilian dancers every first Friday just to spice things up a little," says Cuba Libre marketing director Maria Malone. "It started to catch on, so then we came up with the idea to promote salsa, merengue and cha-cha sort of bands on a monthly basis. That was a big hit, so we decided that when we hit the peak of the summer, like the Fourth of July through Labor Day, we'd have live bands every Friday.
"Every Friday the bands do three sets of 45 minutes each, and DJ Javier [Ramos], our resident DJ since we opened, keeps the party going between sets," adds Malone.
DJ Javier spins salsa, bachata, merengue, Latin house and tropical dance music, and a member of Cuba Libre's wait staff, Jeff "the Singing Server," will also occasionally entertain the crowd when the musicians take five.
"We recently got Jeff more involved with the floor show on Saturday, where he'd come out in his Cuban shirt and do more faster-placed Latin cover songs before the salsa dancers and percussionists begin, and will also perform in between sets," says Malone. "He starts out with more mellow and romantic numbers, and as the night progresses we'll bring it up-tempo with everything."
A sort of transformation takes places, says Malone, in the hour-or-so before Cuba Libre's dining hours end and the entertainment starts at 11pm. Some exceptionally talented dance troupes from New York City, known for their acrobatic maneuvers, are scheduled to perform Saturday nights before the end of summer, she says.
Name: Cuba Libre Restaurant & Rum Bar
Address: The Quarter at Tropicana, Brighton Ave. and the Boardwalk; 348-6700
Hours: Doors open for entertainment at 10pm every Fri. and Sat., and the Late Night Latin Floor Show begins 11pm. Cuba Libre's restaurant is open 11:30am-11pm daily. The bar stays open until 2am weekdays and 4am weekends. Happy hour is 4-6pm, and includes $2 rum cocktails and $3 small-bite menu items.
Details: Cuba Libre's popular Late Night Latin Floor Show now includes live bands every Friday night starting 11pm. The schedule for the rest of Aug. is as follows: Edgardo Cintron & the Azuca Band on Aug. 8; La DiCupe II on Aug. 15 (including a CD release party); Emo Luciano on Aug. 22; the Azuca Band and La DiCupe II on Aug. 31 (the Sun. of Labor Day weekend). Cover charges are left to the digression of management. Generally there is a $15 cover Sat. night and no cover Fri. night. There are two outdoor patios where patrons can go to smoke. An "upscale casual" dress code is enforced. Guests must be 21 or over.
On the Web: www.cubalibrerestaurant.com
"We'll probably take things in another direction after the summer, but it's hard to say," says Malone. "Right now what we've been doing is a big hit, and we'll be doing something special for Labor Day weekend. We're trying to get Edgardo [Cintron] and Luis [La DiCupe] together that Sunday [Aug. 31] to do more general covers, traditional and non-traditional salsa music. That should be a lot of fun."
Cuba Libre is the centerpiece of The Quarter's "Little Havana" motif, encompassing about 12,000 square feet and four bar components (the Missile Bar, the El Rapido Bar, the Barista Bar and the main Rum Bar) on two levels. During entertainment it is tailored to accommodate about 850 people. Business partners Barry Gutin and Larry Cohen have co-owned Cuba Libre and the adjacent 32 Degrees, a luxury lounge specializing in European-style bottle service, since The Quarter opened at the Trop in 2004. They have also owned adjoining establishments of the same names in Philadelphia since December 2000, and plan to open another Cuba Libre in Orlando, Fla., this fall. The restaurant/bars feature salvaged materials and a tropical, open-air ambiance that captures the essence of authentic Cuban architecture. Cuba Libre also markets its own brands of rum, available for purchase at the restaurant, including white, dark and spiced rums, and three brands of aged rums.
On Monday, Aug. 25, Cuba Libre will be one of 14 restaurants participating in the "Taste of The Quarter" benefit for the Leukemia & Lymphoma Society of Southern N.J. from 7-9pm.