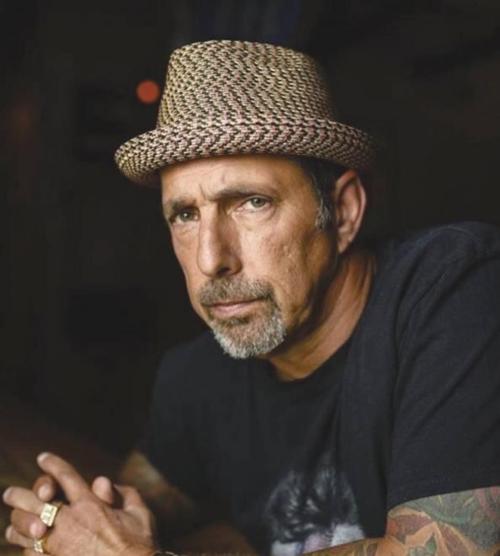 Rich Vos is about as North Jersey at it gets. Born and raised in the rough-around-the-edges town of Plainfield, Vos is tatted up and gruff, with a manner that borders on grumpy at times, but in the type of self-deprecating way that only adds to his charm.
He began doing stand-up comedy back in 1984 and has not only survived a 37-year career, but has thrived, building his audience along the way through various mediums. He recently starred in "The King of Staten Island" with "Saturday Night Live's" Pete Davidson, co-hosts the podcast "My Wife Hates Me" with his real life wife, comic Bonnie McFarland, and has released seven albums of stand-up, his most recent being 2019's "When I Saw Hamilton …"
Vos will bring his act to Atlantic City for a pair of shows 8 p.m. Friday and Saturday, April 9 and 10, at the Atlantic City Comedy Club. We had a chance to chat with Vos bright and early one morning while he was still shaking off some of the cobwebs from his slumber. Here is what he had to say.
Atlantic City Weekly: What got you into comedy initially?
Rich Vos: I failed at everything else. And the musicians I knew were meeting girls, but I couldn't sing. But I was always a fan of comedy — from Richard Pryor to Bob Newhart. And a lot of it goes back to childhood and my parents being divorced. When you are a young kid in that situation, you listen to comedy to laugh and to cover up the pain. And then, when you get older, you find drugs and that covers the pain. And then you get married and it's an all new pain! It's all just about what kind of pain you have to deal with and how you want to work through it. So now I'm onstage getting validation from complete strangers – but if my parents were to have given me one or two more hugs as a kid, I'd probably be working on Wall Street.
ACW: Your show at the Atlantic City Comedy Club is at a traditional seated theater. What's the weirdest venue you have performed at since COVID began?
RV: Well … last summer I did a show between two alleys in New York. That was pretty ridiculous. And the numbers of people that could be in the crowd were obviously much lower, but people came. They still want to have fun as much as they can.
ACW: Does comedy work better in a crowded room?
RV: Of course, yeah. Social distancing effects everything, but it's better than nothing. And I've been doing comedy for so many years, so I'm used to adapting. Sometimes you are working the late spot at a comedy club to eight people, and sometimes you are doing your act in front of a few thousand.
ACW: Do you write out every beat of your act?
RV: Not at all. I try to work within the moment, and if I come up with something new I work it out on stage. But every comic is different (when it comes to writing). If I think of something, I might just write a couple words on my phone and then I work it out onstage. Over the pandemic I haven't come up with tons of new stuff though because I haven't been working as much.
ACW: Being a comedian, do you feel a certain pressure to be funny when you meet fans?
RV: No, not at all. Does a proctologist check people when they are walking down the street?
ACW: No, but it seems like people expect comedians to be "on" all the time.
RV: Then those people are in for a big letdown. It depends on what mood I'm in, but I'm not anybody's little dancing pet or whatever.
ACW: Do you think it's harder to make people laugh in 2021?
RV: No. Look — you could be the cleanest, funniest act on the planet and somebody is not going to like you. You could be anyone from Gandhi to Mussolini and somebody will find something wrong. But the people who come to see me know what to expect … disappointment.