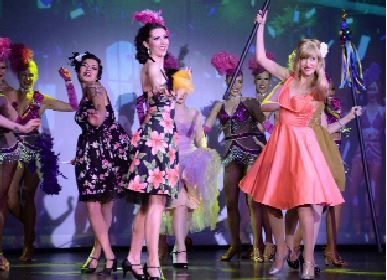 Rather than trying to overthink what the public might want in entertainment, sometimes it just makes more sense to re-tool a proven winner. That's what event producer Allen Valentine did when he created The Burlesque Show at Borgata Hotel Casino & Spa in summer 2013, tweaking and rejuvenating a highly popular art form that helped define the early part of the 20th century.
Having recently wrapped up its third summer at Borgata, where the once-weekly production was sold out nearly every Thursday at the Music Box, the Burlesque Show — choreographed by Jill Reed — is back for another eight-day holiday run from Saturday, Dec. 26, through Jan. 2.
"I've been doing shows in Atlantic City for 25 years, and of the 37 custom-built shows I've produced in A.C., I think I have the most fun producing these shows at Borgata," says Valentine, president of Elite Casino Marketing Group. "Each summer we give the show a completely new spin — new costumes, production numbers, comedy skits — and we do the same thing during the holiday run to keep things fresh.
"Moreover, by running it eight straight nights during the holidays, it gives people who might not be able to make it on a Thursday night during the summer the chance to see it this time of year."
The Burlesque Show pays tribute to the revue-style showmanship of vaudeville, with elements of dancing, comedy, acrobatics and magic. There is an adult-themed, striptease component to it, but one that is designed to be more a part of the show's playful nature than anything brazenly lewd or risque.
"We're not showcasing women as objects, we're celebrating the feminine form," says Trixie Minx, one of five professional burlesque performers in the show. "We're celebrating movement, we're celebrating the human body and what we can do with it to make it totally sparkling and beautiful.
"Obviously burlesque does involve striptease, but the old-school burlesque shows way, way back in the day relied heavily on comedy, and Allen's been really great about making that a big part of the show," adds Minx, who, like another feature performer in the A.C. show, Hazel Honeysuckle — yes, these are stage names — appears for the majority of the year in shows in New Orleans. "These comedy bits keep everything kind of light and fun, and the dancers get to work with comedian Jeff Pirrami, magician Dave Kaplan and with other cast members from different mediums than we ordinarily would. And they're all hilarious. It's all original material and intensely funny."
Pirrami is the show's emcee who appears in many of the skits, and keeps the audience laughing during costume and set changes. The Philadelphia-based comedian has been a part of the Burlesque Show since it started in A.C. His long history working standup in the resort town includes, most recently, headlining with two other comedians a tribute to the late Ray Garvey, the founder of the Borgata Comedy Club, in November.
"(The Burlesque Show) is definitely adult oriented, but it's very classy," says Pirrami. "I mean, I'm probably the least classy person in the whole show.
"It's about a 70-minute show that's over before you know it; they want to get you back in the casino to gamble. It's very similar to a show you'd see in Las Vegas. I tell a few off-color jokes and I always tell people in the beginning, 'Hey listen, we're just having fun. If you don't like it, don't go writing letters or nothing -- Go home, have a scotch and go to bed.'
"But people love it. In the three years I've been doing it, I can only remember two or three times that it wasn't sold out, and the nights it wasn't sold out it was damn close to it."
Girls just want to have fun
Productions such as the Burlesque Show are magnets for detractors who tend to view its sexual nature as degrading to women. Those associated with the show would argue to the contrary, however.
"It's not exploitation, it's an art form, and in nearly all the shows I've ever done, at least 50 percent of the audience is usually female," says Trixie Minx, one of the show's five feature burlesque performers who previously worked as a ballerina. "We tend to get a lot of couples come out to see it. It really makes for a perfect date night or for a girls' night out on the town. The show is women celebrating being women, and just having some fun. That's really what it's all about."
"Although it's a very sexy show, the one plea I've heard many times over the years is that it's very empowering for women," says show producer Allen Valentine. "It's tastefully done, and a large majority of our audience members are women who love it and keep coming back. Burlesque is a wonderful form of entertainment with a storied history behind it, particularly in Atlantic City."
THE BURLESQUE SHOW
WHEN: Saturday, Dec. 26, through Saturday, Jan. 2. All shows 9 p.m., except 10 p.m. Dec. 31.
WHERE: The Music Box at Borgata Hotel Casino & Spa, 1 Borgata Way, A.C.
HOW MUCH: $25
MORE INFO: Go to TheBorgata.com or call 866-900-4849 for tickets.
Must be at least age 21 to attend.