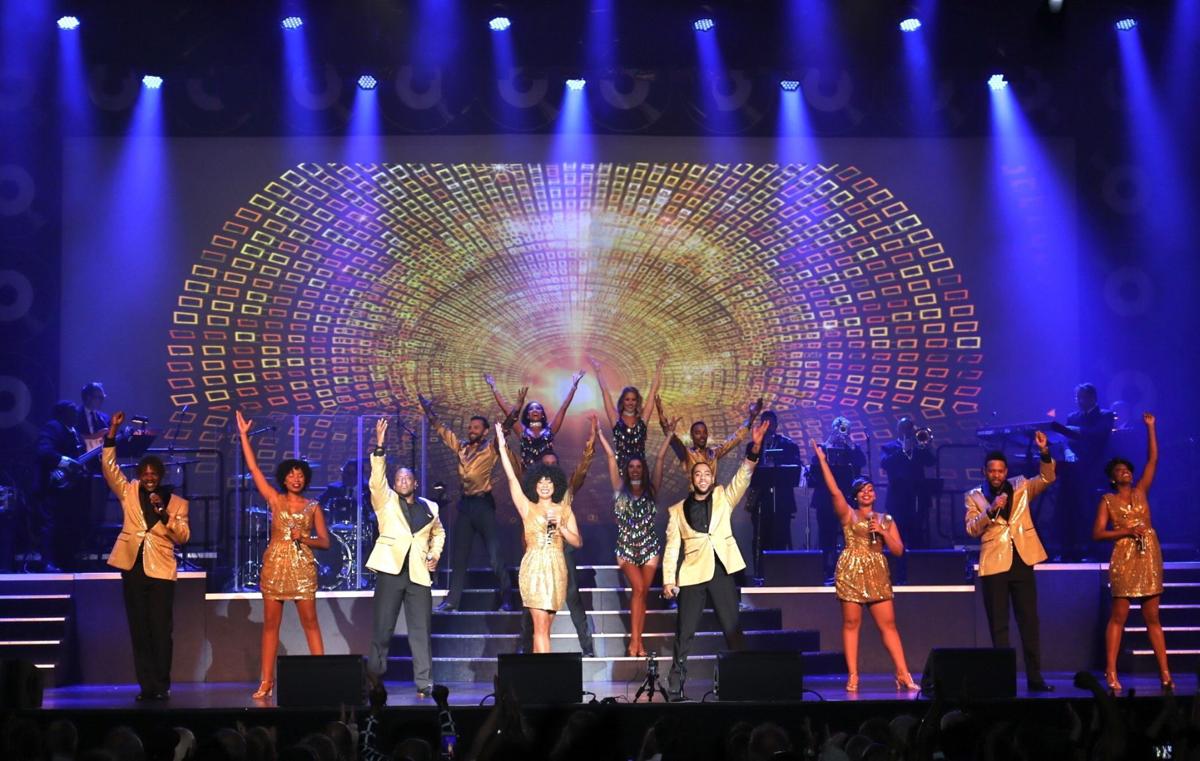 I am not sure what's more exciting: the fact that Hard Rock Hotel & Casino Atlantic City is offering a Motown-themed Christmas show; or that there is any show being performed inside a casino at all?!
That said, do yourself a favor and check out "Motor City Live: A Motown Christmas," a resurrected and re-energized holiday-themed production show from the fun and creative minds of Producer Allen Valentine and Co., who have brought several fun production shows to Hard Rock since its 2018 opening.
Full of Motown goodies and soul-fueled Christmas classics in a socially distant setting, "A Motown Christmas" will not only put you in the holiday spirit but give you some sense of normalcy along with hope for more live entertainment in the near future.
Limited to 150 people in a giant showroom situated with tables for two or four people set at least 6 feet apart from each other, "A Motown Christmas" is exactly what Dr. Santa Claus ordered in a world plagued by a virus and government shutdowns. Patrons, whose temperatures are screened when they arrive at the casino, are encouraged to wear masks if they are not imbibing a cocktail at their tables, all of the Hard Rock staff diligently wears masks — even the dancers wear a mask while performing on stage to further enhance safety – and hand sanitizer is available every direction you look.
Featuring eight vocalists — balanced with four males and four females — and four dancers with the same balance, "A Motown Christmas" may seem familiar. That's because this show was produced during Hard Rock's first holiday season, following a successful run of the original Motown revue minus the holiday theme.
But as familiar as the production show might seem, "A Motown Christmas" should feel just as fresh since more than 50 percent of the show's setlist is new, complete with additional choreography.
The Sound Waves stage is sparsely decorated but classy with poinsettias and small Christmas trees placed in the back of the stage among the talented, five-member live band, a nice touch in a casino world that seems to have devolved into using tracks for most long-running shows. The biggest set piece is a giant LED screen that serves as a backdrop for the show, displaying images ranging from a hot sun for songs like Martha & the Vandellas' "Heatwave" to more seasonal images such as Santa being pulled by his reindeer or the mandatory flickering fireplace.
The show perfectly opens with energetic versions of The Temptations'
"Get Ready" and The Supremes' "You Keep Me Hangin' On," setting the tone for the next 60 minutes and immediately impressing the sold-out crowd with the abilities of the tuxedo-clad male vocalists and sequined-dressed female singers, along with the dancing prowess that would be on display throughout the show.
An awesome Temptations/Four Tops medley with ditties such as "I Can't Help Myself (Sugar Pie Honey Bunch)" and "It's the Same Old Song" kept the party humming, with other standouts including: The Supremes' "You Can't Hurry Love" and "Stop! In the Name of Love"; a Jackson 5 tribute with "ABC," "I Want You Back" and "Stop the Love You Save"; Stevie Wonder gems "Superstition" and "Uptight (Everything's Alright)"; and a stirring penultimate "Ain't No Mountain High Enough," which would have made a much better finale than Ike and Tina Turner's "River Deep – Mountain High," which is a fine enough song but just fell flat as the climax in a sea of amazing songs that preceded it. Even a spirited Christmas classic would have more impact.
Sprinkled throughout the Motown masterpieces were memorable holiday tunes presented in the R&B spirit including a swinging version of "Rudolph, The Red-Nosed Reindeer" reminiscent of a version by The Temptations thanks to its amazing harmonies; a super fun version of "Santa Claus is Coming to Town" in the vibe of The Jackson 5; a cute version of "My Favorite Things" that could have been performed by The Supremes; and a superb rendition of "O Holy Night" featuring the entire vocal cast taking turns with lead vocals and then harmonizing with each other to wow the audience. It was so good that it received the only standing ovation of the evening … a showstopper so impressive that it either gave you goosebumps or made you cry (or both)!
Other than the choice of finale, there were few other issues with "A Motown Christmas" except for the occasional vocal straying off key momentarily like in a cover of Stevie Wonder's "Someday at Christmas," which didn't resonate with the audience in the first place, or the fact that the show was so heavily stacked with Temptations, Supremes, Wonder and Jackson 5 music that you might crave a little more artist diversity when it comes to song selection. But again, that's just nitpicking.
Usually, the holiday season presents more stage options than anyone can possibly get to. That is certainly not the case in 2020, so "A Motown Christmas" feels even more special than it normally would, making it hands down the must-see holiday show of the year.