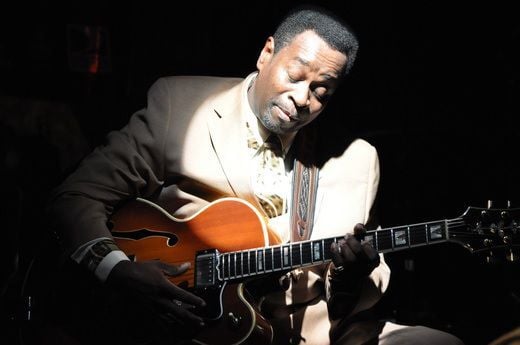 One of the great tragedies of the pandemic has been the general absence of live music. Normally the warmer months offer up a variety of concerts from both local musicians as well as internationally famous acts. But with COVID-19 still making touring impossible, many musicians have been unable to make a living in recent months. But in New Jersey, restrictions have started to ease, and we are now beginning to see more opportunities to enjoy live music.
Once such opportunity heads our way this week, as local nonprofit Tony Mart Cares and Somers Point's Circle Liquor Store present "A Tribute to Teddy," 5 p.m. Tuesday, Sept. 15, at Fitzpatrick's Steakhouse and Deli in Somers Point. The event will be a dinner/concert experience starring members of the Tony Mart All-Stars performing "The Music that Made Tony Mart's Famous." Tony Mart's was a legendary club in Somers Point that hosted some of the biggest names in music from its opening in 1945 until its closing in 1982. Famous acts that performed there include Bill Haley, Duane Eddie, Del Shannon, Bob Dylan and many more.
The tribute show serves as a fundraiser for Teddy Royal, a legendary New Orleans-based guitarist who performed alongside Fats Domino and a host of other famous musicians. Royal is now living in the Atlantic City area and has fallen on hard times due to the lack of available work for musicians during the pandemic.
"Teddy was the house guitar player with both of the major recording studios that cranked out some of the greatest music in the golden age of New Orleans rock 'n' roll. We are talking pre-Beatles," says Carmen Marotta, the organizer of the event and son of the legendary Anthony "Tony Mart" Marotta.
"He was a very close, personal friend of Fats Domino and played on his records, as well as many others. He's a New Orleans legend, but he is here in Atlantic City right now and doesn't have a means to support himself, because there is not much work for musicians at the moment. We chose Teddy (as the recipient of the fundraiser) because he is kind of a fish out of water in Atlantic City, and he doesn't have all the connections that locals might have. We always try to stay close to New Orleans in one way or another, and Teddy is that connection. He is a wonderful man and he needs our help."
A donation of $40 is required to attend "A Tribute to Teddy," and folks can expect to hear everything from Bill Haley to Bob Dylan along with a special tribute to Fats Domino. The evening will be split into two concert performances and will include a variety of talented local musicians including Danny Eyer, Brian "The Voice" Conover, Jimmy "Old-School" Glenn, Brian "Coconutz" Varhelyi, Greg Pordin of The Stylistics and The Jerimiah Hunter Band, "Big Bob" Ernano, Dan Burke, and the musical director of the Tony Mart All-Stars, Rich "Megahurtz" Kurtz. Guests will have the opportunity to see Royal himself perform during the first performance as he will join the band for the duration of the set, and will be featured on hits such as "Honky Tonk" and throughout the Fats Domino tribute. For the second show, local blues guitar legend Billy Walton will be performing with the All-Stars as well.
"You'll get to hear all the biggest hits by the most famous people who ever played at Tony Mart's," Marotta says.
Of course the other main attraction is the culinary experience, a two-course dinner featuring a choice of five entrees as well as tastings of wines, craft beers and hard seltzers provided by Circle Liquors. And in case you are concerned about COVID safety, they have that covered as well.
"Fitzpatrick's does a great job … they are totally professional, Marotta promises. "The tables are socially distanced, and it's a big area that is nicely spread out. It should be a great night. If people want to see a real, big-time classic rock show — if they missed getting to see the concerts this summer — this is an opportunity to do it."