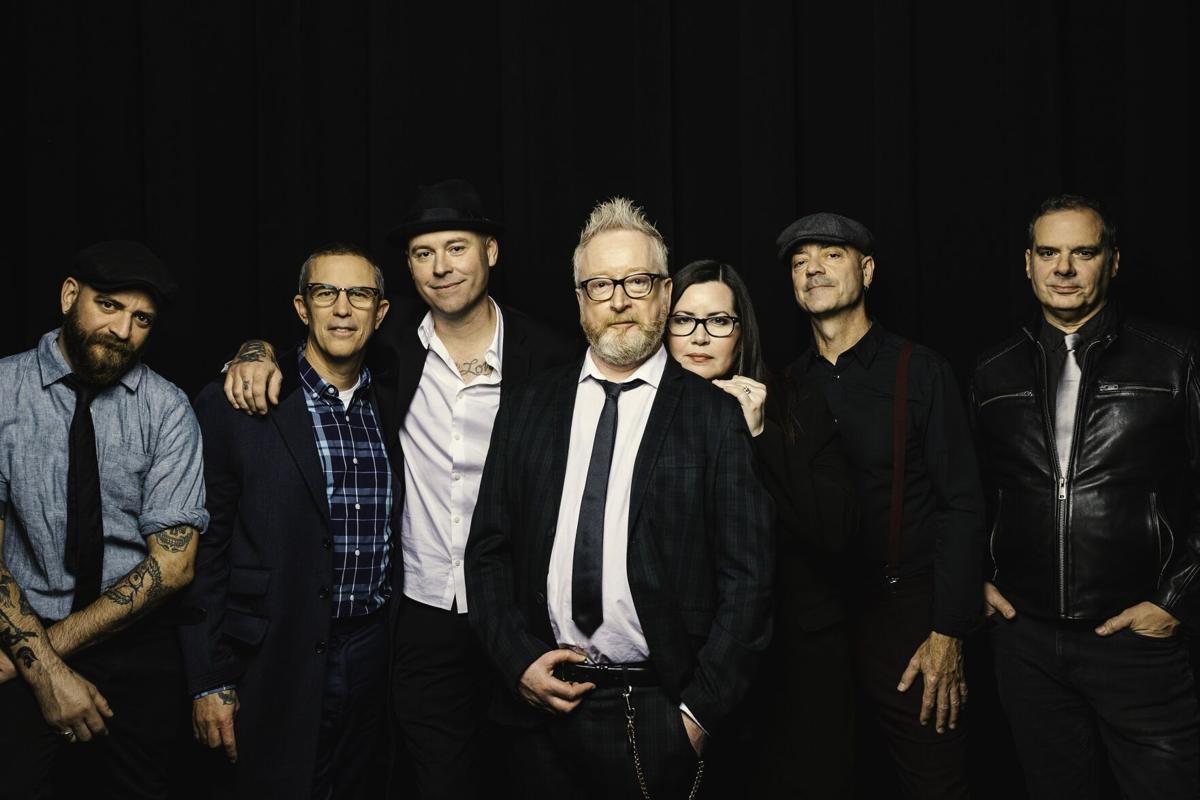 This year, Flogging Molly has reached the 25th anniversary of when singer/guitarist Dave King and fiddle player (and future wife) Bridget Regan formed the band. Having survived the pandemic, these veteran Irish rockers are heading out on a headlining tour to support their new album, "Anthem," making a stop at Hard Rock Hotel & Casino Atlantic City at 8 p.m. Friday, Feb. 24.
The road has always been a second home to the seven members of Flogging Molly, who have steadily built a large following and stable career the old-fashioned way – by touring and word of mouth raves about their highly entertaining and raucous live shows.
"I remember when we first started, I won't mention the radio station, but they did a battle of the bands and they'd play four songs by four bands. Whoever had the most requests at the end of the week would be immediately put on their playlist," King recalled in a recent phone interview. "And we won hands down and they refused to play the song on the radio. Their excuse was 'Well, it's only your fans that are calling in.' From then on, we knew we were never going to get any favors. Everything Flogging Molly had to do, with the help of our fans, we were going to have to do it ourselves.
"I feel very proud, to be honest. I think we all do. I think we're very proud that we have done it the old way," the singer/guitarist said.
The talk of the early days is appropriate, not only because Flogging Molly is reaching a milestone, but because the band's new album, "Anthem," marks a return to their roots in very tangible ways. It marks a reunion with producer Steve Albini, who recorded the first two Flogging Molly albums, "Swagger" (2000) and "Drunken Lullabies" (2002).
The four studio albums that have followed have seen King (the band's main songwriter) and the rest of Flogging Molly embrace a wider variety of tempos, instrumental settings and musical styles, while retaining their Irish punk musical foundation.
But having been forced off the road and into isolation by the pandemic, King, Regan and the other band members – Dennis Casey (guitar), Matt Hensley (accordion/concertina), Nathen Maxwell (bass), Spencer Swain (mandolin/banjo/guitar) and Mike Alonso (drums) — wanted to go back to how Flogging Molly started, by playing together in the studio live with no attempts to dress up the sound with studio finesse. They wanted no outside input filtering into the project from a producer, record label or any other source. And that meant Albini, who is famous for simply recording bands live with minimal overdubs, was the man for the job.
"We wanted to go back to our first couple of albums we did with Steve," King said. "The band is always in control when you're working with Albini. It's not like you're bringing in somebody (to produce) and they put in their little two cents, which is great sometimes. But we felt that we didn't want that this time. We felt we wanted to put all of our energy into the album and not be, I don't want to say hindered, but we have seven opinions in this band (already). And for right now, those seven opinions were what we wanted for this album."
By the time Flogging Molly arrived at Albini's Electrical Audio Studio in Chicago, the band had written and arranged nearly all of the songs for "Anthem" – one exception being the album's closing song, "The Parting Wave," which was written and arranged during the recording session.
It took only 14 days for Flogging Molly to record the 14 songs on "Anthem." Mission was accomplished.
"As a band, we're really, really happy with it," King said. "Working with Steve has always been a great experience, and then we got Atom Greenspan to mix it. He did an absolutely phenomenal job, absolutely above and beyond, a brilliant job."
Chances are, Flogging Molly fans will agree with that assessment of "Anthem." There are plenty of songs – "A Song Of Liberty," "This Road of Mine" and "(Try) Keep The Man Down," to name three — that continue the band's tradition of crafting rowdy Irish-accented punk songs with strong melodies and solid playing. Such songs are balanced by ballads like "No Last Goodbyes" and "The Parting Wave" that share the Irish feel, but with a sturdy and folkier feel.
Flogging Molly won't be shy about introducing fans to songs from "Anthem" during the current tour.
"We're going to be doing new material from the new album because we feel very strongly about it and I think people will as well," King said. "I mean, we did a couple of (the new songs) at our St. Patrick's Day show here in L.A. at the Hollywood Palladium (last year), and they went down incredibly well."