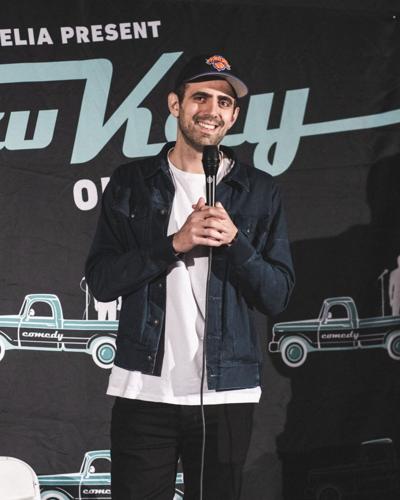 If we've learned one thing about our increasingly expensive Netflix subscriptions, it's that if you're a comedian with any chops, you're probably going to land yourself a Netflix special. But for Sam Morril, Netflix (where his new special "Same Time Tomorrow" is currently streaming) is just the tip of the iceberg. With two podcasts — "We Might Be Drunk" with fellow comic Mark Normand, with whom he also just released Bodega Cat Whiskey (it's actual whiskey, not the clever name of a show) and "Games with Names," which he hosts with former NFL wide receiver Julian Edelman plus a recent appearance on "That's My Time with David Letterman," and a live tour, Sam Morril is on fire right now, in the best way possible. Catch his "Class Act Tour" 7 and 10 p.m. Friday, Feb. 24. at Borgata Hotel Casino & Spa. I had a chance to chat with him in advance of the shows. Here's what he had to say:
Danielle Davies: Lots of places online are mentioning that you're one of the fastest rising stand-up comics and best joke writers, but what about before? Did you grow up as a funny kid?
Sam Morril: I think I was funny. I mean, it's hard because your friends think you're funny because they're your friends. But then as a comic, you have to learn to be a different type of funny. You can't just go back to inside jokes as a comic. You have to learn to connect with strangers pretty quickly or they're like, "This guy sucks."
DD: In "Same Time Tomorrow," we heard about your favorite comedy demographic, the pedophiles, as well as your support of a woman's right to choose but your reluctance about kicking that off with a baker's dozen. Is there anything that's off limits?
SM: I would say nothing's really off limits, but certain topics, getting into them could be a challenge. I mean, if it's really a horrible thing, people might not want to hear about it, but if you get them to go on that (journey) and they laugh at it, it gives some kind of relief, I think.
DD: Another thing about "Same Time Tomorrow," I want to know more about Gary. I know he opened for you on the Netflix special but how funny is he? (Morril talks about traveling with his friend/fellow comedian Gary Vider during the special).
SM: Gary is so annoying. He's with me in Salt Lake City right now. We just got coffee. I woke up late, and he goes "I already worked out." And I was like "You motherf***er." I get mad when he's healthy without me, you know what I mean? You have a friend and it's like he ordered fries and I order fries. And I drink and he doesn't so that annoys me too. I'm like, "You think you're better than me because you don't drink?" and he's like "I absolutely do."
DD: You mention in the special that you love movies and that "Dog Day Afternoon" is in your top five. What are some others?
SM: It's really tough. I mean "Dog Day Afternoon" is just so perfect because it's just pure New York. I love old New York movies of that era. I think they made the best movies around that time because you've got "The Godfather," "Chinatown," "Bonnie and Clyde," "The Graduate." That era is so cool.
DD: You seem to do a lot of audience interaction. Do you have a most memorable interaction?
SM: That's so tough. It's funny because people think I do these crowd work shows but that's not true. I did over 60 minutes of material on both shows last night in Utah. What happens is I do so many shows and I record every show, so I just get these moments. I don't want to burn material on social media if I don't have to. I don't like burning jokes I'm going to put in my next special, so I just put up little moments (on social media) that are funny. But I like writing jokes.
DD: But when you do include the crowd, you don't seem to make the people in the audience uncomfortable.
SM: No, I don't want them to be scared to cooperate. You want them to feel like it's going to be a funny interaction and that's it.
DD: You were in the movie, "The Joker" and you perform right before River Phoenix flops just so horribly.
SM: It's been brought to my attention that the Joker's origin story is that he couldn't follow Sam Morril onstage.
DD: Have you ever flopped onstage?
SM: Have I ever flopped? I bomb all the time. The other night I followed Chris Rock and he's bringing the heat with this stuff he's going to tape in like two weeks and I got it into my head that I'll do new stuff. I'm eating sh*t on stage, obviously. Then I was like, "Oh maybe I shouldn't be open mic'ing a set after the world's most famous comedian is playing hits basically." I saved the set, and I turned it around, but I bomb all the time still because I will still try and do (new) stuff. I'm not upset when I bomb. I mean, if it's stuff that's proven that's bombing, then I'm upset. But it if's stuff I thought of that day, I'm like "a lot of this should bomb." Some will hit, some won't, and it's great. That's perfect. That's how it should be.
DD: It seems like you have to have really thick skin to be a comedian.
SM: Well it's a little of both, right? You have to be thick-skinned in any form of entertainment, because of the rejection, but you also have to be thin-skinned. You have to kind of be sensitive to think of jokes, you have to feel everything, even if the feeling is irritability, you have to be constantly feeling things. It's that weird combination.
DD: You do a lot of clever things, from posting audience interactions so you don't burn up your jokes online to performing on rooftops during the pandemic. Do you still that at all?
SM: It's so funny. People would hit me up after that came out, like "Come out and perform on my roof" and I'm like, "That's f***ing over, are you kidding?" That was like complete and utter desperation. That was me trying to survive during the dark time. Now that I can go inside again in New York, you think I'm going back to the roof? I was in a pea coat freezing my ass off telling jokes. Stage time was just so valuable at the time. You'd get like ten minutes by the East River in a weird area where you're performing next to a guy peeing. I was like "This is awful, I'm going to start doing my own shows. That way, I could do an hour and I could really build back up. That time to build back up is so valuable to comics. You want that time for trial and error and people were so hungry for live entertainment that they were patient as hell with me because I was rusty. And of course, there was a disclaimer, "This isn't the real show. I'm rusty and I'm doing new material."
DD: In addition to your ongoing podcast, "We Might be Drunk," you've got a new podcast "Games with Names" with Julian Edelman. Tell me about it.
SM: We talk to all these sports legends. The premise is that we're on the search to find the greatest game ever played. And we rate the games and we visit the games and we revisit that time and what was going on in the country and culturally what was happening and where we were in our lives. We have one or two guests on, sometimes we get someone from the winning and losing sides of the game.
DD: So, you're 36, you've been on David Letterman, you have a Netflix special, you're on tour nationally performing all the time, with multiple podcasts. What's next? Is it all downhill from here?
SM: Yes. I just tried some meth in downtown Salt Lake City and I'm here to tell you it's great, and I think that's it.