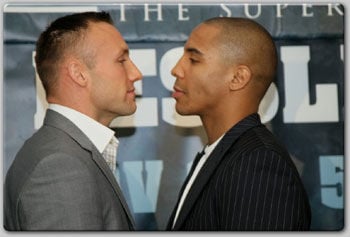 In an interview with Atlantic City Weekly, one of the early Super Six fighters, Mikkel Kessler, talks about Super Six finalists Carl Froch and Andre Ward with AC Weekly contributor Rob Scott.
Mikkel, you unfortunately were forced to pull out of the Super Six Classic because of an eye injury. That eye has since healed and you've made a successful return with a 6th round TKO over France's Mehdi Bouadla. Now you are scheduled to challenge WBO Super Middleweight champion, Robert Stieglitz of Germany on April 14th. This fight was actually suppose to take place on November 5th, but another injury to your hand this time set that date back. Just how is the hand now?
The hand is great. I recently got the cast off and now I'm ready to come back.
Before exiting the tournament, you scored a unanimous 12-round decision victory over Carl Froch, and in the process, you lifted his WBC belt. After you pulled out, you didn't know when, or even if you would return to the ring. Subsequently you were changed to the WBC Super Middleweight Champion Emeritus due to your departure. Are you still in that status with the WBC?
You know, I really don't know. I have to ask my manager about that, because I wanted to remain in that status in order to get my future shot.
For our readers who don't know what that means, can you explain what it meant/means in comparison to Froch, who after you were sidelined, won the vacant WBC title and again became world champion?
Well it means that Froch now holds the title, but because of the way I went out, I am entitled to have a definite title opportunity upon my return, within a certain time frame. That is why I have to check with my promoter and manager to see about my status.
You had to exit the Super Six Tournament in what would be a downer for anyone who truly had a desire to prove they were the very best in the sport. It seems you are indeed in a position though to still prove yourself as that very best super middleweight fighter in the world, especially since Froch has expressed that you are on his radar, if he defeats Andre Ward on the 17th. How does it feel to know that he wholeheartedly does not think the right man's hand was raised when you two faced one another?
I won the fight; He knows it, as well as his cornermen, and you saw it in their faces directly after the fight was finished. I welcome a fight with him, especially if he wins the tournament. 
Froch is visibly bothered by his loss to you, but Andre Ward did deal you a blow in scoring a victory over you in the first round of the tournament. Just how much is Ward on your radar, and if he wins, do you think he would immediately give you a chance to redeem yourself?
I don't know, but, oh I would love to fight Ward again. It's mainly because when we fought, that wasn't me. He fought a good fight and has done well, but I know for sure that he didn't fight the best Mikkel Kessler. Froch, to me fought a good fight and he wants to fight, while Ward is like a match burner, more than him really wanting to fight. I mean I really have to say that Froch comes to fight, and I like that because that's the way I am. I want to see who is the best, and not just holding, head butting, getting a few punches here and a few punches there. Actually I really don't care who I fight. I would fight both at the same time (laughing).
I asked this of Froch and Ward also, but going into the Super Six, besides yourself, who did you think had the best chance of winning the tournament?
Besides myself, I thought Froch did have the best chance of winning. I thought Jermain Taylor was a good fighter, but after getting knocked out by Froch, I saw he was no longer any good and he couldn't take a good punch. I actually had seen Ward and Dirrell in good fights, but I would have to say Froch was my pick, and the one I saw fighting in the finals.
Some fighters have confidence, but of all the people that I have interviewed/spoken with, Carl Froch is one fighter that I think sincerely believes in himself immensely. Some fighters do have genuine confidence, while some talk to convince themselves. How sincere do you think Froch's confidence level is?
I think he had a bit too much confidence early on, but he has had some tough fights and a loss. But you know what? It gives you a lot of experience. Now I think he feels, 'Oh shit, I can lose,' and if he tackles that situation then he can have a lot more confidence with and because of that experience. He talks a lot, but that's OK for him to talk now because [now] he is a good fighter.
Froch has downplayed Ward's power, especially in comparison to his. Give us an overall comparison of these two when it comes to their positives and negatives.
I think Ward is a good fighter and a fast fighter. He is a good inside fighter, but not so good from a distance. When he comes in he is good. One negative is he runs around the ring too much, and when he does, he can't handle it. When he settles down, he's good. Froch, on the other hand, has long arms and is physically stronger than Ward. His bad side is he is slower. I do think it will be a good fight though, and I just hope Ward settles down and gives us a good show.
IBF champion, Lucian Bute has made a name for himself in the super middleweight mix. What are your thoughts on him, and his chances against you, Ward or Froch?
I don't think he has big chances. He's a pretty good fighter, but he needs to fight better competition, because he hasn't faced the best ones yet. I would like to see that one day.
Ultimately, who do you think will have his hand raised when Ward and Froch clash on December 17?
If Froch does his homework, he will win the fight. Ward will be in his home country; he's fast and has a good chance of winning also, but I think Froch has learned from his other fights. I think he also learned something from his fight with me as well. If you ask me, I think [Froch] is actually a better fighter.
Well Mikkel, I thank you for talking with us about the final fight of the Super Six Classic between Andre Ward and Carl Froch, and we look forward to your return to the ring as well.
Thanks you very much.
Coming Thursday, Dec. 15: An interview with Carl Froch.
Who do you think will win the Super Six Classic?
Read more of Rob Scott's boxing notes here.