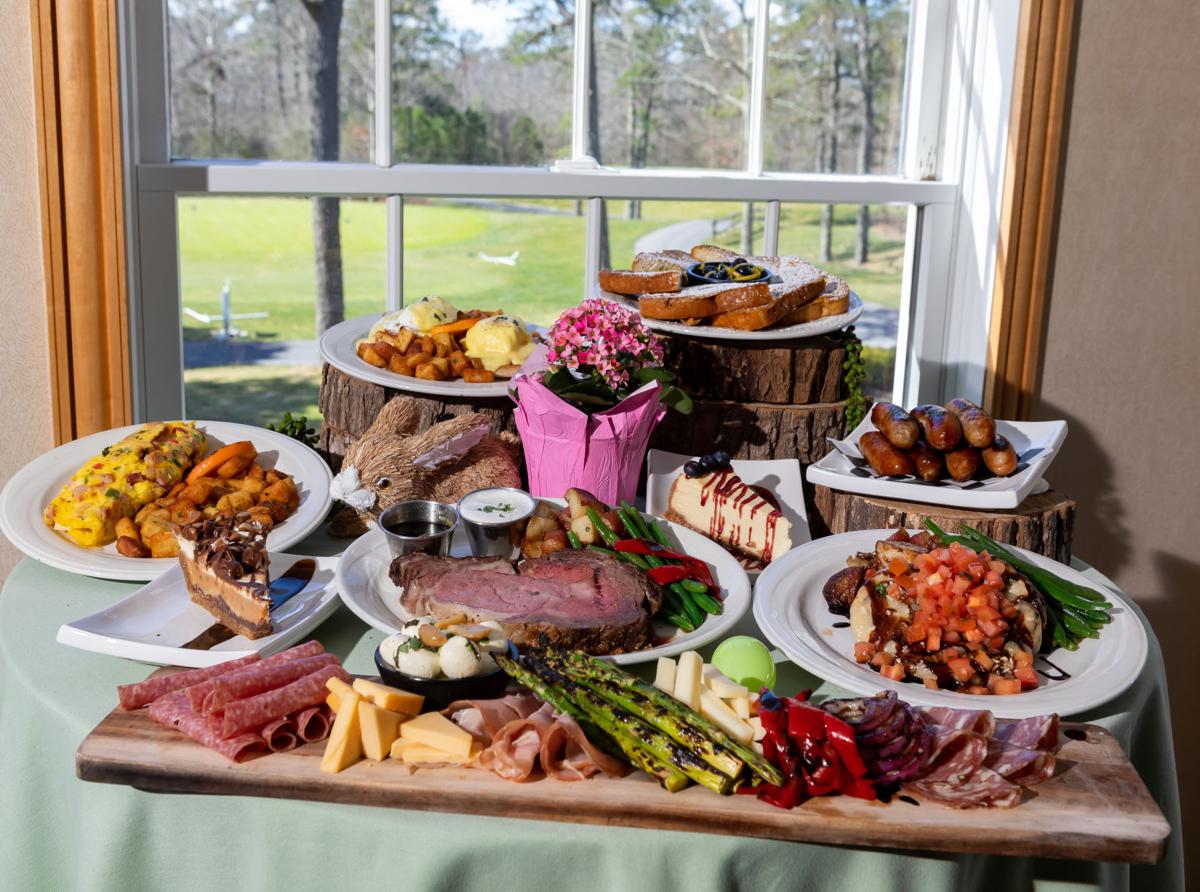 A year ago, the idea of dining out for Easter was all but unthinkable. Even those who celebrated the holiday at home likely did so without visits from friends or extended family, as the pandemic was in full swing, effectively canceling all holiday plans.
But this year things are looking brighter for the Bunny. With the return of indoor dining and loosening of capacity restrictions, going out to eat for Easter 2021 is absolutely possible. Spring has sprung, and it's time to get dressed and head out with family to celebrate the day with a grand meal. Here are some options for brunches, dinners and desserts — both fancy and casual.
Atlantic City Country Club
Who said buffets were a thing of the past? Certainly not the folks at Atlantic City Country Club. This Easter their buffet game is as strong as ever, as they offer both brunch and dinner versions of the meal. Brunch runs from 9 a.m. to noon Sunday, April 4, where guests can enjoy an all-you-can-eat smorgasbord with a special appearance by the Easter Bunny. There are truly too many tasty items to list, but expect to encounter pastries, muffins, bagels, made-to-order omelets, a Belgian waffle station, a meat-carving station with both herb-rubbed prime rib and oven-roasted turkey breast, plus an array of entrees such as cinnamon-dusted French toast, cheese blintzes with fruit sauce and chicken with a basil blush sauce, among others.
The dinner buffet runs from 3 to 5 p.m. Sunday, April 4, and will feature the same carving stations as the brunch as well as a pasta station and a long list of entrees, such as roasted pork loin with rosemary gravy, mussels and clams in a lemon garlic herb broth, and baked macaroni and cheese. Assorted cakes will be served for dessert.
The brunch buffet is $35 for adults, while the dinner buffet will run you $42. Both brunch and dinner options cost $18 for children 3 to 12. Children under 3 eat for free. Reservations are required, and can be made by calling 609-236-4400. Atlantic City Country Club is located at 1 Leo Fraser Drive in Northfield. Go to ACCountryClub.com.
Borgata Hotel Casino & Spa
Borgata doubles down on Sunday with two great spots to sweeten up your Easter. Bread and Butter, the go-to spot for 24-hour dining is a great place to grab a quick sandwich or salad, but for Easter they will also offer chocolate malted cake loafs as well as festive Easter egg blondies.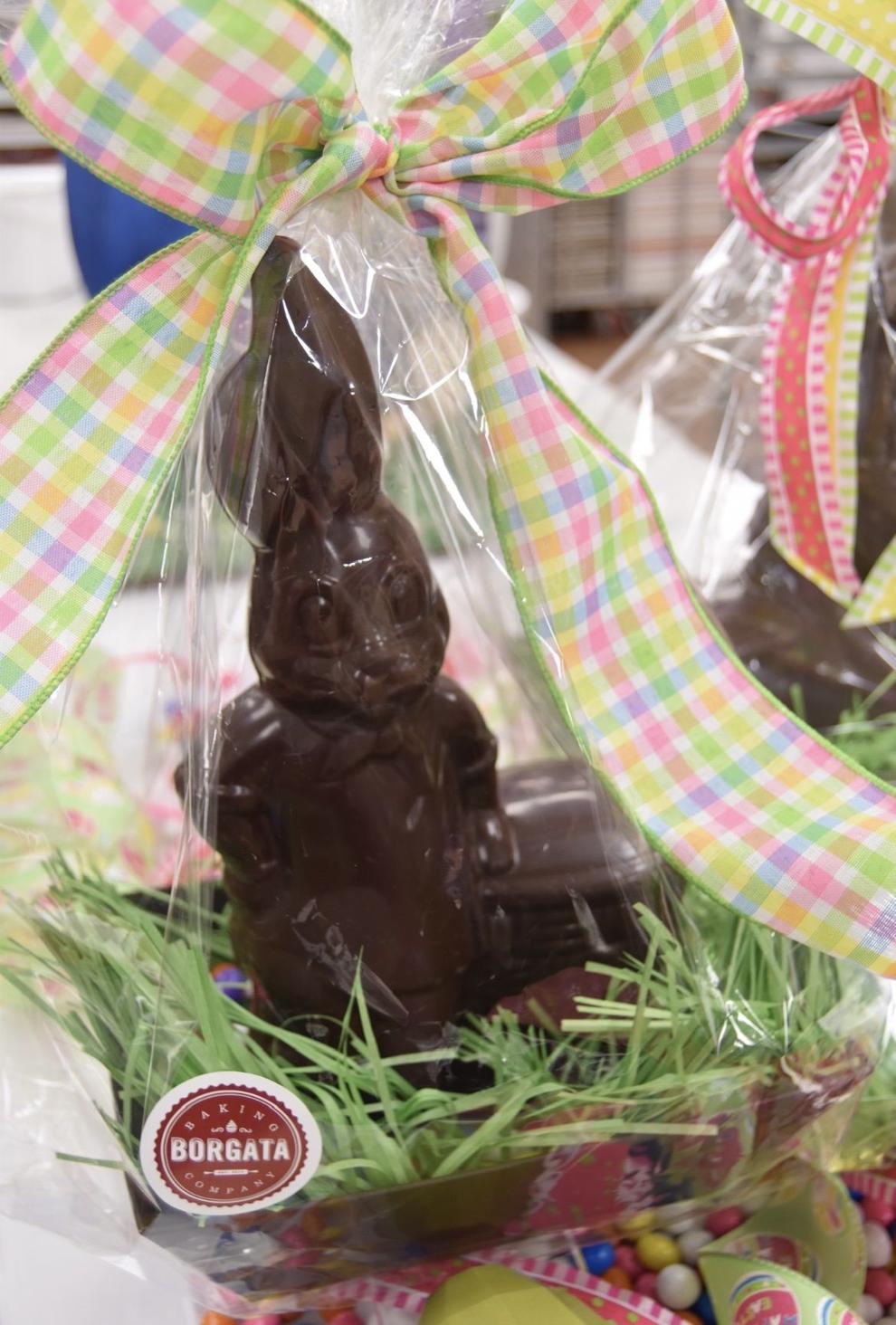 Over at Borgata Baking Company you can snag chocolate Easter bunny baskets in dark, milk or white chocolate varieties, as well as decorated chocolate Easter eggs, peanut butter chocolate eggs and classic Easter desserts like butter pecan cream cakes, malted stacked Easter brownies and more. Borgata is located at 1 Borgata Way in Atlantic City. Go to TheBorgata.com.
Linwood Country Club
Linwood Country Club is a stunning venue, equally fit for a wedding as it is for a round of golf or an Easter brunch buffet. On Easter Sunday they will offer the latter from 11 a.m. to 3 p.m. Guests can expect an awesome spread of delicious dishes covering everything from donuts, bagels, cinnamon buns and breads to scrambled eggs, bacon, sausage, shrimp cocktail and lox. They will also be carving up ham and a beef filet and satisfying your sweet tooth with an array of mini desserts and chocolate covered fruits. And if that's not enough, they will also host a petting zoo from 11:30 a.m. to 1:30 p.m., as well as an Easter egg hunt at 1:30 p.m. Cost for the brunch is $36 for adults and $18 for children 12 and under. Reservations are required and can be made by calling 609-927-6134. Go to LinwoodCountryClub.com.
Renault Winery
Renault Winery has been a favorite spot for fine dining for decades, and this charming South Jersey staple has recently undergone renovations, making it a truly elegant and wonderful space to enjoy an Easter brunch. This year brunch will run from 10 a.m. to 3 p.m. and will include photos with the Easter Bunny. The menu includes everything you would expect and more, from omelets to bacon and eggs to waffles and French toast, along with fancier fare like pork shank, maple-glazed ham and a rosemary-crusted leg of lamb. Mimosas and Bloody Marys are available at the cash bar. There is also a kids menu, loaded up with things like mac and cheese, chicken tenders and fish sticks that is sure to please the youngsters. Prices are $38.95 for adults and $18.95 for children 12 and under. Reservations can be made by calling 609-965-2111. Renault Winery is located at 72 Bremen Ave. in Egg Harbor City. Go to RenaultWinery.com.
Curley's Fries at Morey's Piers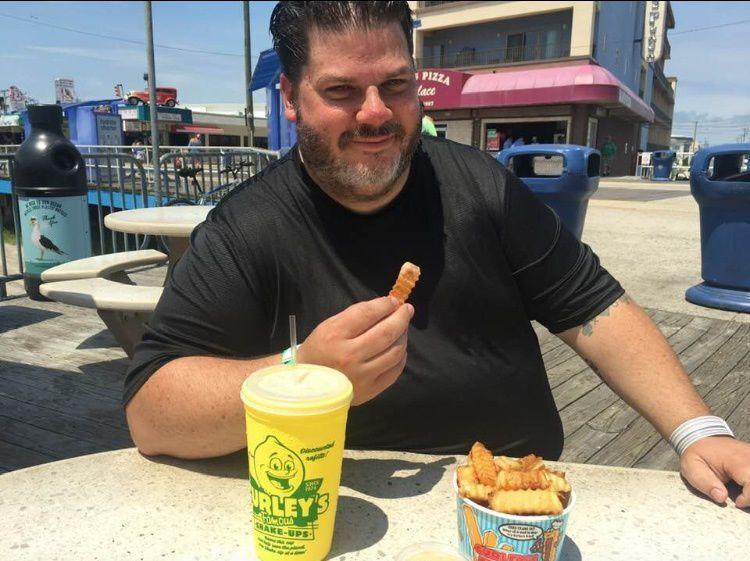 OK, so most of the attractions on Morey's Piers don't officially open until May 8, but if you really have the itch to get to the boardwalk now that the weather is warming up, you can head over to either location of Curley's Fries on Surfside or Mariner's Piers. Both will be open on Easter Sunday and ready to serve you up one of the most iconic snacks in all of Wildwood. Who needs Easter eggs when you've got fresh cut fries anyway? Curley's Fries is located at 2501 and 3501 Boardwalk in Wildwood. Go to MoreysPiers.com.
Carmine's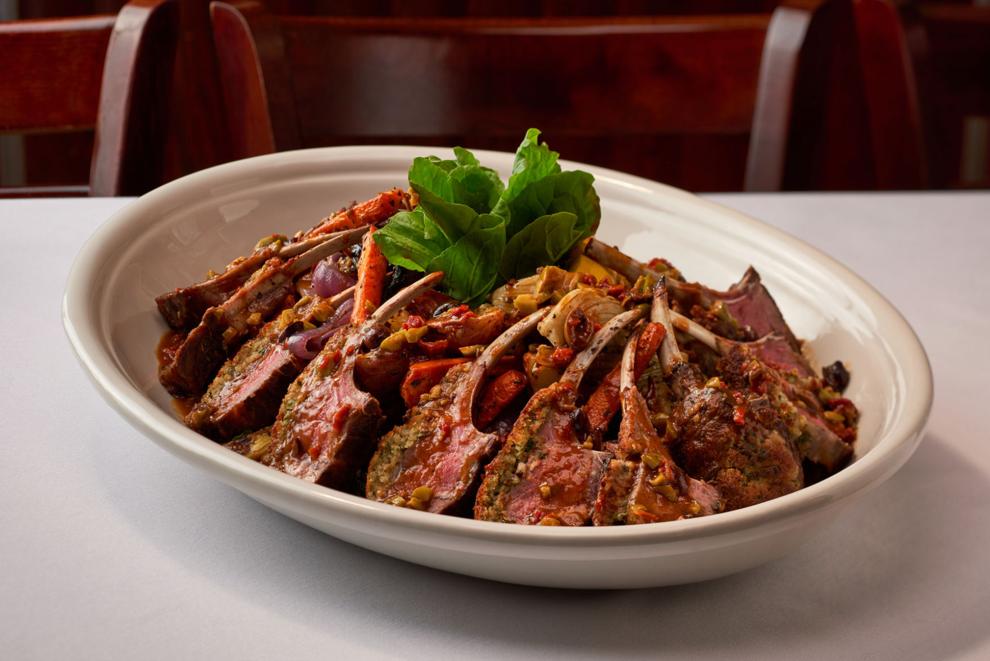 What better place to enjoy a family holiday than at a restaurant that specializes in family-style dining? Carmine's takes up convenient residence at The Quarter inside Tropicana Atlantic City and has been a favorite for shareable Italian specialties for years. This Easter they offer several Easter specials including Carmine's Stuffed Salmon, a tasty dish filled with spinach, crab meat, scallops, shrimp, celery and red peppers seasoned with bread crumbs, white wine and lemon juice. They will also feature a rack of lamb with grilled and roasted vegetables, carrots, red bliss potatoes, red onion, zucchini, fennel, eggplant, yellow squash and Portobello mushrooms served with a red wine sauce, black and green olives and sundried tomatoes. Carmine's is located at 2801 Pacific Ave. in Atlantic City. Go to CarminesNYC.com.
Greate Bay Country Club
Somers Point's beloved Greate Bay Country Club gives folks good reason to throw on their finest pastels and frilliest bows of the season and head out to dine this Easter as they welcome the return of their Easter Brunch. The meal is offered from 10 a.m. to 3 p.m. and features a delightful selection of dishes including cherry-baked ham, prime rib, pesto-marinated grilled chicken, pan-seared salmon and more. There will also be a variety of stations serving up omelets, waffles, salads, pastas and desserts. And yes, that basket-loving, egg-hiding bunny will be on hand as well. The cost is $39.95 for adults and $15.95 for children ages 3 to 12. Kids under 3 eat for free. Greate Bay Country Club is located at 901 Somers Point — Mays Landing Road, Somers Point. Go to GreateBayCountryClub.com.
Resorts Casino Hotel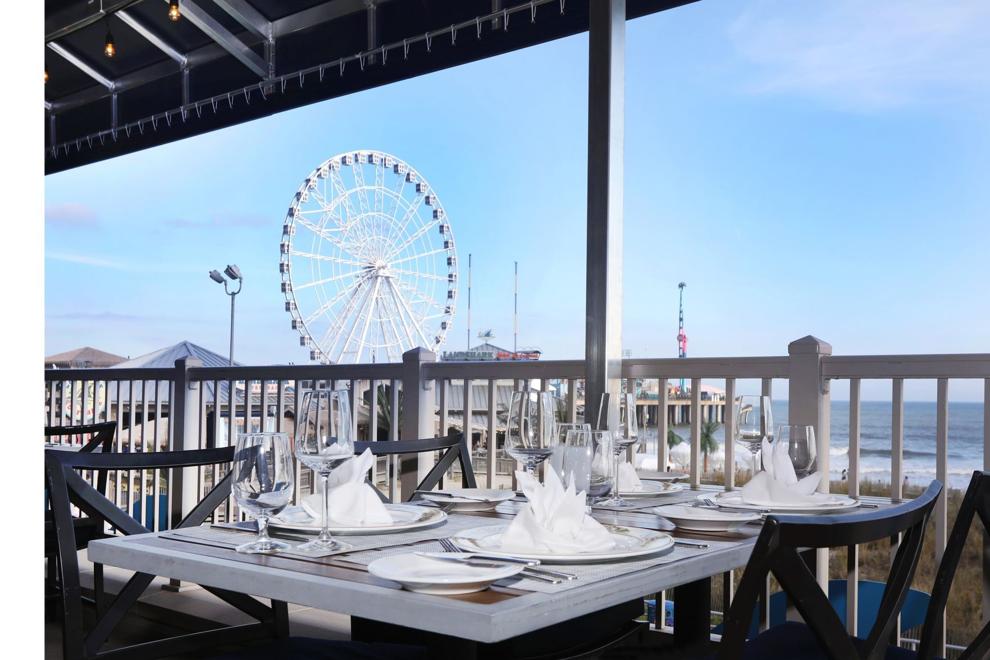 Resorts gets in the spirit of the Easter holiday with dining options at two of its restaurants. Capriccio is most famous for being one of the most gorgeous Italian restaurants in town, and now things are even more gorgeous than ever thanks to seating options on their newly enhanced outdoor veranda, which overlooks the Boardwalk. Easter dinner options include antipasti, lamb lollipops, spinach and mushroom quiche, eggs benedict and a ribeye steak among others. Capriccio's Easter Dinner is offered from noon to 5 p.m. Sunday, April 4. Breadsticks Café & Grill also offers Easter dining with a three-course, prix-fixe dinner menu for $27.99. Highlights of the menu include halibut chowder, an herb-crusted lamb loin with potato kugel, spinach, lamb demi and a lingonberry sauce; and pappardelle pasta mixed with spring peas, wild mushrooms and smoked bacon in a porcini cream sauce. Dessert is a choice of either hot cross bun bread pudding or a mint cake vanilla pudding topped with fresh strawberries. The Easter Dinner is offered from noon to 9 p.m. Saturday, April 3, and from noon to 6 p.m. Sunday, April 4. Resorts is located at 1133 Boardwalk in Atlantic City. Go to ResortsAC.com.
Dino's Seaville Diner
Fancy brunches have their fans, but if a simple, enjoyable meal at a classic Jersey diner is more your speed, Dino's has you covered. Located in – you guessed it – Seaville, they have been serving up fantastic eats since 1977 with no signs of stopping. And on Easter Sunday they will be offering an entire menu of Easter specials including baked Virginia ham, roasted leg of lamb, slow-roasted prime rib, broiled sea scallops, broiled salmon fillet or a roasted half chicken over stuffing with gravy. All dinners include vegetable, choice of soup or salad and cornbread. Dino's Seaville Diner is located at 33 Route 50 in Seaville. Go to DinosDiner.com.
The Grill Room at Harbor Pines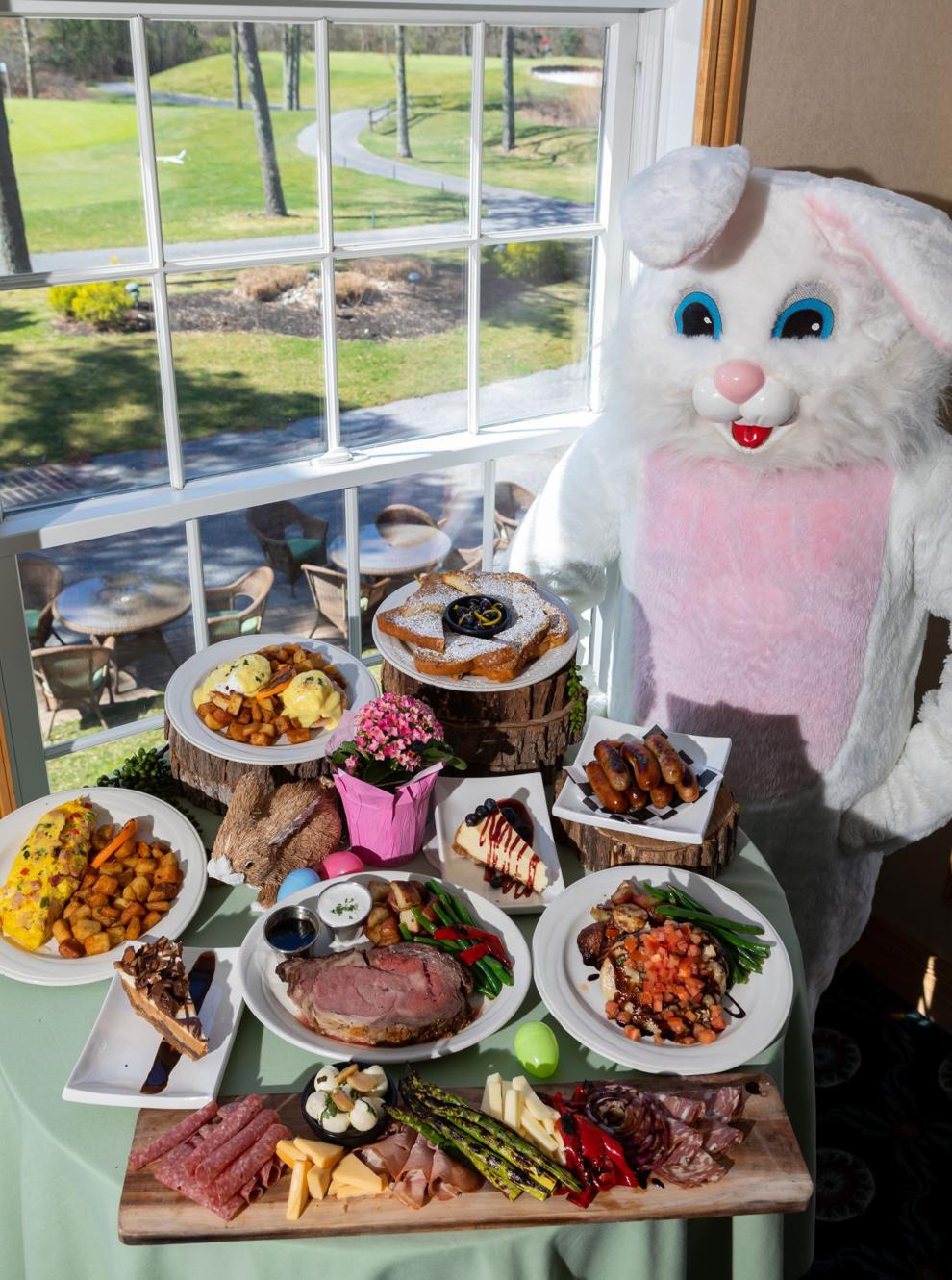 What could be more beautiful on a lovely spring day than to spend Easter Sunday enjoying a relaxing brunch overlooking the rolling hills of a pristine golf course? That is exactly what you get at The Grill Room at Harbor Pines, an elegant and gorgeous space located at Harbor Pines Golf Club in Egg Harbor Township. Their Easter brunch will feature an assortment of breakfast favorites such as eggs Benedict, french toast sticks, sausage links, plus omelet, carving and dessert stations, salads, breads and a list of mouthwatering entrees such as filet tips with chimichurri sauce, chicken Caprese drizzled with balsamic vinegar and shrimp and cheese grits — just to name a few. The Easter Bunny will also be in attendance for photo ops. The cost for brunch is $39.95 for adults and $19.95 for kids 6 to 12. Children 5 and under eat free. Harbor Pines Golf Club is located at 500 St. Andrews Dr. in Egg Harbor Township. Go to HarborPines.com.
Rainforest Café
If your kids enjoy the magic of the Easter Bunny, why not add more giant animals into the mix? A trip to Rainforest Café in Atlantic City offers just that – in animatronic form. The jungle-like atmosphere and over-the-top theming makes this spot a favorite of children and adults alike, and if you aren't looking for the fancy splendor of a traditional Easter meal, their Easter breakfast might just be your best option. From 9 to 11 a.m. Saturday, April 3, Rainforest Café will offer guests a delicious plated breakfast along with raffles, prizes, goodie bags for the kids and, of course, pictures with the Easter Bunny. Tickets are $17.99 for adults and $10.99 for kids and must be purchased in advance at RainforestCafe.com. Rainforest Café is located at 2201 Boardwalk in Atlantic City.