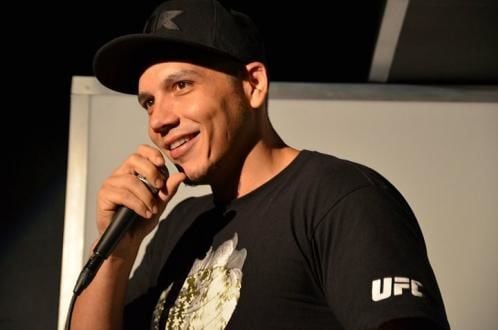 With the absence of much of the usual entertainment in our area and the majority of folks being on edge from months of COVID-related restrictions, it seems now more than ever just about everyone could use a laugh. And the Atlantic City Comedy Club is offering just that, as it presents live comedy shows each week from the Celebrity Theater at The Claridge Hotel.
This week New York-based comic Luis J. Gomez headlines a trio of shows Friday and Saturday, Dec. 4 and 5. Gomez is a veteran of the comedy scene, getting his start nearly 20 years ago in New York City during the notably unfunny period of the 9/11 terrorist attacks. Since then he has gone on to co-host the podcast "Legion of Skanks," in addition to his regular standup work and appearances on TV shows such as NBC's "Last Comic Standing." We caught up with Gomez recently to talk about what he has been up to and what it's like to try and make people laugh in the middle of a pandemic.
A.C. Weekly: What made you think you were funny enough to step on stage the first time?
Luis J. Gomez: It was out of necessity. I was producing comedy shows and my host for the week bailed, which worked as a great excuse for me to go onstage, because I always really wanted to do it. So I went onstage and did way better than I expected -- and then I bombed my next 200 sets. But the problem was I did so well in that first set that it tricked me into believing I had something. Your sort of hold on to those endorphins.
ACW: Have you done much standup since the pandemic began? What have the shows been like?
LJG: Everything has sort of shutdown since the pandemic began. I have jumped onstage here and there when I can, and luckily I have the podcast that I do, so I have been able to get laughs and put out content, but the standup has been few and far between. This weekend you are going to see a very fresh version of me, whether that is good or bad! There will definitely be some stuff I have not done before. Its such a crazy time and I think people are really thirsty for some live entertainment. I'm excited to get back out there and get back to work.
ACW: Is it harder to connect to an audience when there is limited seating capacity and social distancing? Do the physical elements of the theater matter?
LJG: I don't sell out anyway. I can really only sell about 25 percent capacity based on my draw, so for me it's just a day at the office! (laughs)
Maybe for some other guys who are used to playing massive theaters it's a big difference for them. But in New York City we do shows for 10 or 15 people sometimes, so it's not really any different. Once things get going, you start to lose sight of those peripheral things. If a comic is good and the audience wants to be there, those things all sort of disappear and you start to connect.
ACW: It seems like people are more sensitive now than ever before. Do you enjoy the tension in the room when you are touching on subjects that make people uncomfortable?
LJG: I love that tension! If you are not offending a few people in the audience, you are playing things a little too safe. I think it's a comedian's job to sort of pull at those emotions. In my opinion, the best thing a comedian can do is make somebody laugh and have them think 'man, I feel bad for laughing at that.'