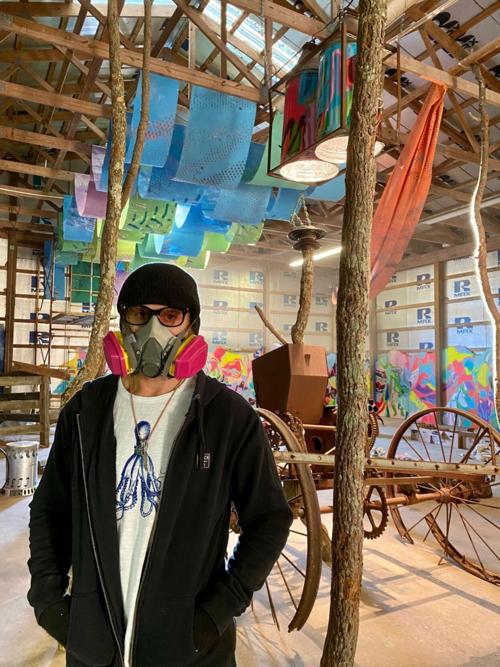 Art exhibit comes to EHT farm
Searching for a bit of beauty in the world? Reed's Organic Farm and Animal Sanctuary is currently presenting the art exhibit 'Transition Happening.' Curated by Cookie Till, the exhibition runs through Monday, Jan. 18, and is a takeover giving way to new works by artists Todd DiCiurcio, Jon Baker, Charles Barbin, Randi Meekins and Brandon Abercrombie using their work collaboratively as a vehicle to temporarily reimagine the space. This multi-sensory exhibition includes sculptures, painting and photography created with the artists' respective mediums, historical farm relics, found objects and natural resources. The exhibition is by appointment only and masks are required. To schedule, go to
TransitionHappeningReedsOrganicArt.as.me. The Farmers Market will also be open daily from noon to 4 p.m. Donations, art sales and purchases will benefit Reed's Organic Farm & Animal Sanctuary. Reed's Organic Farm & Animal Sanctuary is located at 5075 Spruce Ave. in Egg Harbor Township.
Walking in a Vintner Wonderland at Renault Winery
Renault Winery in Egg Harbor City is a gorgeous location to visit no matter what time of year you go, but this winter they are offering a one-of-a-kind winter experience that is sure to dazzle just about everyone. It's called Vintner Wonderland, and it features everything from a giant skating rink — complete with a DJ — to local vendors and artists selling holiday ornaments, toys, scarves, glassware, figurines, artwork, apparel and various crafts.
Guests can stroll through the grounds taking in the gorgeous lights and displays and later gather around one of the firepits to warm up while sipping a glass of wine or hot cocktail. Food trucks will be on site, but folks also have the option to make a reservation at the outdoor Champagne Patio Garden, which also features live bands. This weekend you can check out Stealing Savanah Duo at 5 p.m. Friday, Jan. 15; Don't Call Me Francis at noon and Philly Keys Dueling Piano at 6 p.m. Saturday, Jan. 16; Country Live with Triple Rail Turn at noon and Jimmy Brogan & Destinee Monroe Duo at 5 p.m. Sunday, Jan. 17;
The Vinter Wonderland runs through Sunday, Feb. 28. Hours vary, so we recommend calling or checking the website before you go. Renault Winery is located at 72 N. Bremen Ave. in Egg Harbor City. Go to RenaultWinery.com.