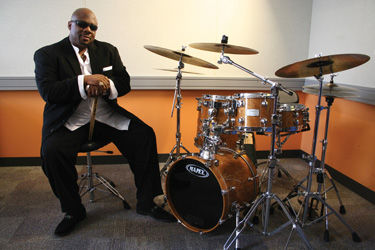 Pleasantville's Ralph Peterson Jr. is celebrating a bunch of things with the upcoming release of his 16th album as a bandleader, The Duality Perspective, to be released on his own Onyx Music label June 19. 

For starters, he's just turned the big 5-0. 

Not only is the world-renowned jazz musician and educator coming "home" to Atlantic City — he now lives in the suburbs of Boston and has been a faculty member at the prestigious Berklee School of Music in Boston for several years — for a Father's Day concert at the Asbury United Methodist Church in Atlantic City as part of the Jersey Shore Jazz Vespers series, but he's also bringing his students along for the show.

Although school is out, and Peterson is off for the summer, he will be out performing to promote his new (fantastic) album, including a show in Philly the night before (June 18) at the Ethical Society of Philadelphia on Rittenhouse Square.

Peterson grew up in Pleasantville and graduated from Pleasantville High School. He then went to Rutgers University in New Brunswick, graduating in 1984, and "studying with a lot of big [music] people there," including Kenny Barron and Michael Carvin. "It was an amazing experience there at Rutgers in terms of the fertility of the collegiate — it was kind of the best of both worlds in that there was still quite a few gigs to do. I was working with Walter Davis and Stanley Turrentine and Henry Threadgill and David Murray. I mean before I even got out of college I had the opportunity to play with guys like Woody Shaw. It was an incredibly fertile period. I mean, my classmates were Terence Blanchard and Regina Belle." 

Peterson took advantage of all the musical minds he encountered at Rutgers and at nearby William Patterson College and Glassboro College (now Rowan). "I mean, the fertility of that period was just remarkable and I am very lucky," he says. After graduating from Rutgers, Peterson soon moved to Jersey City where he was based for a stretch while immersing himself in the live jazz scene in the New York area.

Peterson played trumpet in the Pleasantville Junior High School Marching Band starting in 6th grade ("because they were in need of a trumpet player," he says) but drums were "always in the house," he recalls, as well as other instruments. 

Peterson's grandfather and father both played the drums, the latter — the former mayor of Pleasantville — was schooled by local legend Chris Columbo.

"My father was a working drummer and an understudy of Chris Columbo" at the former Club Harlem in Atlantic City, says Peterson, one of many jazz clubs that once thrived in the resort. He adds that Atlantic City-native and internationally known jazz artist and session drummer Harvey Mason would pick up gigs in A.C. that the senior Peterson couldn't do. "And then Peter Erskine would catch the gigs that Harvey couldn't do," he says. "So there's an incredibly strong lineage of drummers from South Jersey, which is one of the reasons it baffles me that [jazz] music hasn't taken hold in some larger context down there."

Peterson remembers hearing the great jazz singer Arthur Prysock at Club Harlem ("because my dad played drums with him") and some other jazz shows, but when he was of age, the A.C. clubs at KY & the Curb were more focused on soul and R&B singers. "I remember the Wonder Gardens, but not in the context of jazz," he says. "I'm not a jazz baby; I come out of R&B and funk. What I knew more about the Club Harlem and the Wonder Gardens were the singers. Al Green and cats like that who used to play there. Curtis Mayfield had this amazing drummer who used to play standing up! And I'll never forget that, man."

One of Peterson's biggest breaks as a young, but well-versed artist was the opportunity to play with Art Blakey's Big Band in the late 1980s, including a tour of Europe and Japan, shortly before the legendary jazz drummer, educator and bandleader died in 1990. 

Although Blakey lived in the Atlantic City area for several years in the 1970s, and Peterson's parents helped Blakey "with the rearing" of his son Takashi — who grew up in Northfield and Ocean City at the home of Blakey's long-time companion Sandy Warren (who now resides in Atlantic City) — during his teenage years, Peterson came to know Blakey through his association with trumpet player Blanchard while at Rutgers. Eventually he started hanging out with Blakey's Big Band (a unit put together of young musicians such as Wynton and Branford Marsalis, much like Blakey did with the Jazz Messengers for decades prior to that) in New York during the mid-to-late 1980s. 

"My first gig with Art Blakey's two-drummer Big Band was ironically at the Berklee College of Music [where Peterson now teaches]," says Peterson. "It was a scary band."

 (See if you can spot a young Ralph Peterson between the 2:20 and 2:30 mark from this 1988 video)
Although Peterson only got the chance to work with Blakey for a short time, he picked up a lot from the jazz master — including his speaking voice. 

"He has Art's voice down so well, you'd think it really is Art talking," says Warren.

"I was around that voice for a while," says Peterson, after breaking into a dead-on impression of Art Blakey. "And I was around some of the other best imitators of Blakey's voice. So we would all compete to see who could come closest to the sound." 

Peterson pays tribute to Blakey, as well as Elvin Jones, Michael Carvin, Paul Jeffrey, Walter Davis and Bill Fielder, in the cover art of his new album. The aforementioned names are written on the roots of a tree that encompasses the cover, with a yin-yang symbol behind it, Peterson's face in the middle and representations of the two different groups who Peterson performs with on the new album. One is his Sextet, made up of Peterson's former students (such as Tia Fuller and Victor Gould) and his Fo'tet, made up of Peterson's current students at Berklee. 

Peterson is bringing the Fo'tet with him for his Atlantic City and Philly shows.

As Blakey's Messengers and later Big Band were incubators of young talent, Peterson's Fo'tet carries on that torch, making the special Father's Day show in Atlantic City all the more important from a jazz education and history perspective. 

Peterson will surely be welcomed back with open arms when he performs on June 17. The concert is slated to take place between 4-5:30pm, with an after-show dinner and CD signing/meet and greet with Peterson and his band. 

Members of the Fo'tet are clarinetist Felix Peikli, vibraphonist Joseph Doubleday, and bassist Alexander L.J. Toth, along with marimbist Bryan Carrott.
Ralph Peterson Jr.

Where: Asbury United Methodist Church, 1213 Pacific Avenue, A.C.

When: Sunday, June 17, 4pm

How Much: Free Will Offering

Phone: 348-1941

Peterson and his new album (inset)