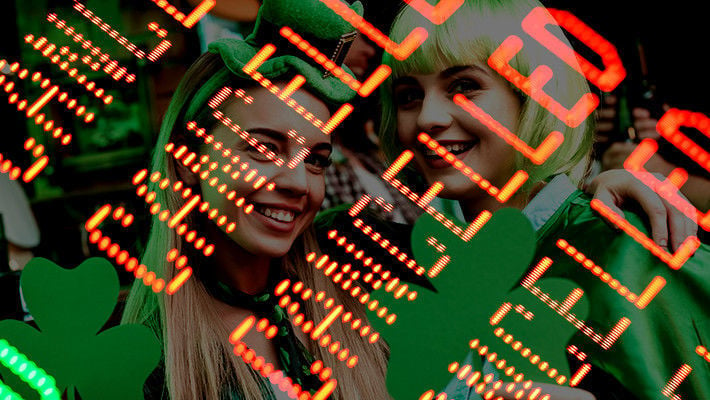 Atlantic City's annual St. Patrick's Day Parade that was planned for Saturday, March 14, has been cancelled. Growing concerns over the potential spread of the coronavirus is what prompted the decision. 
Despite the parade being cancelled, many local businesses will continue to hold St. Patrick's Day events on Saturday.
"We are saddened by the parade cancellation but we will continue to host our St. Patrick's events as planned with our fellow businesses in the community," says Mark Callazzo, owner of The Iron Room and Rhythm & Spirits.  "We always take everyone's health into consideration and will continue to do so with extra precautions to make sure we are diligent in sanitizing surfaces, following all health code procedures in and out of the kitchen and going the extra mile."
Here is a sample list of local places holding specials and events that are still happening this weekend:
Tennessee Avenue Beer Hall will host their St. Patrick's Day event outside in the open at their massive outdoor yard space beginning at 10 a.m. The kitchen will serve both traditional and Irish menus all day long. Patrons will also enjoy live music from Glenn Roberts from 2-6 p.m. and Quasimodo's Bride from 7-10 p.m. Tennessee Avenue Beer Hall is located at 133 S. Tennessee Ave. in Atlantic City. Go to TennesseeAvenueBeerHall.com.
Rhythm and Spirits and The Iron Room will open their doors open at 2 p.m. The bar will feature $3 PBRs and Miller Lites, $4 Jameson and Tully Shots and $5 Guinness. DJs Chris Devine and KJ Butta will be spinning until 9 p.m. For noshing, there will be Irish inspired small slates and the full bar menu available. Regular dinner service resumes next week.
From 11 a.m. to 3 p.m. Sunday they will host a St. Paddy's Day edition of their Recovery Brunch. The event features a drag performance by host Jenna Tall with a menu by Chef Kevin W. Cronin with high tea at 3 p.m. and music by Skyline. Rhythm & Spirits is located at 129 S. Tennessee Ave. in A.C. Go to IronRoomAC.com.
Ducktown Tavern "The show must go on" says Ducktown owner John Exadaktilos.
And indeed it will. Starting at 1 p.m. there will be an indoor/outdoor event featuring music from DJ Hooks and DJ Just Nyce.
And if you are over 45 and prefer a more relaxed experience, you will have your own VIP option. "We are offering a 45-and-older VIP section for anyone who doesn't want to deal with the mayhem. We call it The Silver Fox Club, and it's been a huge hit," Exadaktilos says. Ducktown Tavern is located at 2400 Atlantic Ave. in Atlantic City. For more info, go to DucktownTavern.com.
Back Bay Ale House will be open for business as usual on Saturday and will offer a corned beef and cabbage platter for $12.99 and a corned beef sandwich special for $7.99. Back Bay Ale House is located at 800 N. New Hampshire Ave. in A.C. Go to BackBayAleHouse.com.
The Irish Pub will be open 24 hours a day as always, and will have plenty of whiskey and Irish beers on tap. The Avalon String Band will perform. The Irish Pub is located at 164 St. James Place in A.C. Go to TheIrishPub.com.
Harry's Oyster Bar will host their planned St. Patrick's Day events on Saturday with food and drink specials and live music from The Flynns beginning at 1 p.m. at their outside space (weather permitting). Harry's Oyster Bar is located at Bally's Atlantic City at Park Place and Boardwalk in A.C. Go to HarrysOysterBar.com.
Vagabond Kitchen & Tap House will host their regularly scheduled Saturday with food and drink specials including corned beef and cabbage. Vagabond is located at 672 N. Trenton Ave. in A.C. Go to VagabondAC.com.
B & B Saloon will be open and serving complimentary corned beef and cabbage as well as $2 Bud Lights and $3 Irish Whiskey shots. B & B is located at 2721 Arctic Ave. in A.C. Call 609-246-6312.
Maynard's Cafe will host its regularly scheduled Saturday with live music and drink specials. Maynard's is located at 9306 Amherst Ave. in Margate. Go to Maynards-Cafe.com.