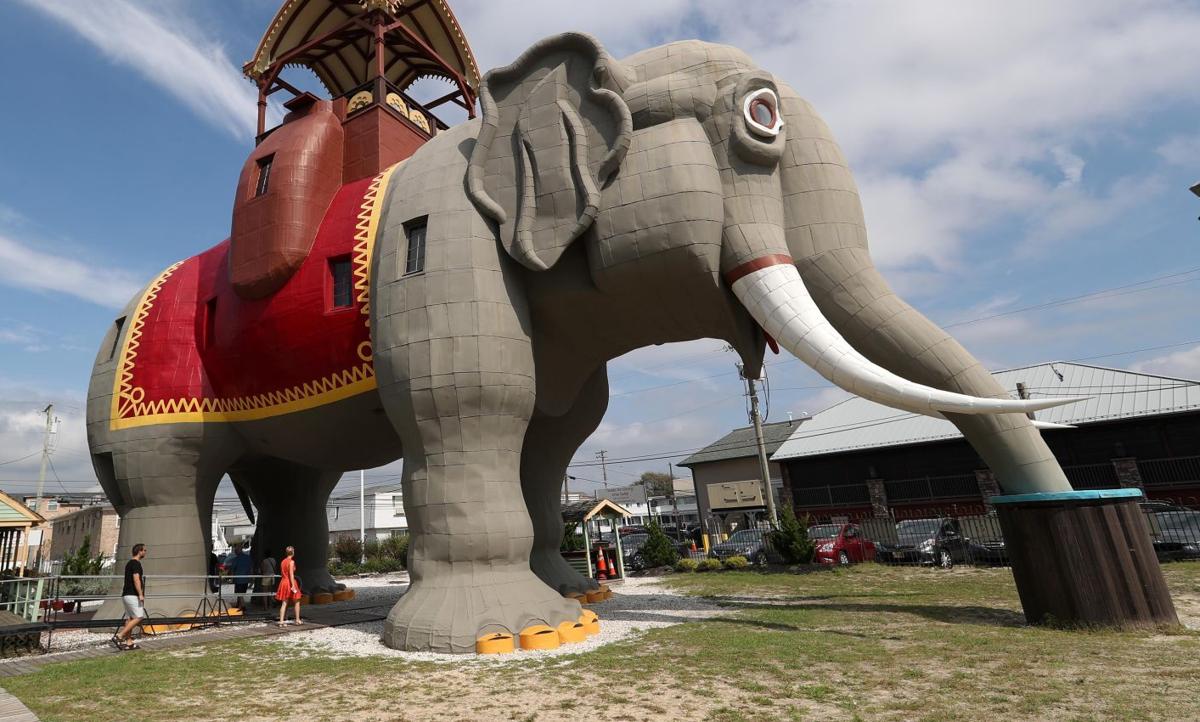 Don't let COVID keep the romance out of Valentine's Day. With some positive news lately about vaccinations and case numbers declining combined with the restaurant curfew being lifted and increasing restaurant occupancy to 35 percent, there is finally light at the tunnel.
So if you decide to head out with your significant other on V-Day — or V-Day weekend — here are some ways you can truly enjoy Cupid's holiday … and each other!
Cakebread Wine Dinner at Council Oak: Nothing defines Valentine's Day more than a romantic wine dinner, and Hard Rock Hotel & Casino Atlantic City is really going all out with a Cakebread Wine Dinner 6 p.m. Thursday, Feb. 11. Avoid the difficulty of getting a reservation on V-Day weekend — or maybe you're in the industry and working all weekend — and celebrate Valentine' Day early at Council Oak Steaks & Seafood, where Executive Chef Quincy Logan will pair his stellar cuisine with wines from Cakebread Cellars, one of the best wineries in NAPA Valley. The four-course experience includes halibut en croute with Romanesco, cauliflower, parmesan and garlic-sage sauce paired with the 2014 Napa Valley Reserve Chardonnay; cider-glazed pork belly, dayboat scallops, lentils and horseradish-mascarpone cream with the 2018 Two Creeks Vineyards pinot noir from Anderson Valley; kobe short rib with truffle risotto and crispy leek with the 2017 Benchland Select Reserve cabernet sauvignon; and what Valentine's Day dinner would be worth anything without an awesomely sweet ending such as the chocolate torte with winter cherry compote and pink peppercorn Anglaise paired with the 2016 Taylor Fladgate Late Bottle Vintage Duoro-Porto. The $195 dinner will be guided by William Bruno, regional director of Cakebread Wines. Make reservations, which are required, at HardRockHotel AtlanticCity.com.
Market of Love on Tennessee Avenue: If you are looking for that special gift for your significant other, then you should definitely head to Tennessee Avenue's Market of Love in Atlantic City. For the second year, more than 20 local artisans will line Tennessee Avenue selling one-of-a-kind, Valentine-inspired gifts beginning at Bar 32 — the new chocolate, cocktail and dessert experience — all the way to Tennessee Avenue Beer Hall. The family-friendly event will feature candles, soaps, jewelry, hats, cakes and much more from vendors such as HomegrownAC, KLM Creations, Liv Smith Designs, Sunray Scrunchies, Atlantic Leather Works, New Spin Designs, Emily Saige, Theorem, 31 Handbags, Holographic Hippie, LaRissa's Seaglass and The Looping Fool. Most vendors accept cards and Venmo, but bring some cash, just in case! The Beer Hall will have lots of food and drink specials, too! Go to TennAveAC.com.
Stay inside Lucy the Elephant: What says love more than a giant pachyderm? Well, not only would it be romantic to spend Valentine's Day at the World's Largest Elephant — Lucy the Elephant — but you could also help the South Jersey historic landmark through these tough COVID times by paying big bucks to stay inside of the magnificent structure on the Margate beach. The Save Lucy Committee will offer a romantic, overnight stay on Valentine's Day, Sunday, Feb. 14, through Airbnb for $6,500. The V-Day fundraiser for the nonprofit organization will go a long way in helping Lucy, whose fundraising was down more than 45 percent due to COVID. The once-in-a-lifetime opportunity includes a bottle of Dom Perignon, flowers, candy, a custom dinner for two prepared by Philadelphia Magazine's 2013 Top Party Planner and renowned Chef Jason Tell, plus a continental breakfast on Monday morning. $5,000 of the fee will be tax deductible under IRS guidelines. Of course, all COVID protocols will be followed, including the cleaning process of Lucy. Go to Airbnb.com/lucy. Lucy will also be open every 11 a.m. to 4 p.m. every weekend for tours, including Presidents' Day on Monday, Feb. 15. Go to LucyTheElephant.org.
Laugh, laugh, laugh at Surflight: If you like to share a laugh with your loved one, then head to Beach Haven's Surflight Theatre, which will offer "Sippy Saturday Comedy Night" 7:30 p.m. Saturday, Feb. 13, and "Live Laugh Love: A Valentine's Cabaret" 2 p.m. Sunday, Feb. 14. Socially distanced and adhering to CDC and state guidelines, comedians for Saturday's "Sippy" show are straight from New York City, including Chris Coccia, Joe Bublewicz and Vanessa Hollingshead. The "Sippy" refers to you bringing closed cups with the beverage of your choice to enjoy. Tickets are just $20. "Live Laugh Love" is just $29.50 and offers a fabulous afternoon piano bar style cabaret of humor, romance and great vocalists hosted by the marvelous Michael McAssey along with several talented singers including Sandra Bargman, Christa Steiner, Lisa Carlson, Jenny Stodd, Producing Artistic Director Steve Steiner and others. McAssey is one of cabaret's busiest and most sought-after entertainers, whether as a frontman, or behind the piano in a piano bar. Go to SurflightTheatre.org.
Sweetheart Truffle Class at Hard Rock: If you are a fan of chocolate – and who isn't? – do not miss the interactive Sweetheart Truffle Class noon Saturday, Feb. 13, at Hard Rock Hotel & Casino Atlantic City as Executive Pastry Chef Thaddeus R. DuBois, who was also a former White House pastry chef, will lead a fun experience where attendees will not only make their own handmade truffles, but will even construct the chocolate box that they will go inside of. DuBois will make things easy for you, of course, and have everything ready to go, but he will show you how to temper chocolate and teach other fun chocolate-making skills. Each person will make about two dozen chocolate truffles in a variety of flavors — raspberry anyone? — sip champagne, eat your own creations and take home a box of truffles for you to devour while watching "When Harry Met Sally" for the thousandth time on Valentine's Day. The class is a super bargain at just $25 per person. Reservations must be made at HardRockHotel AtlanticCity.com.