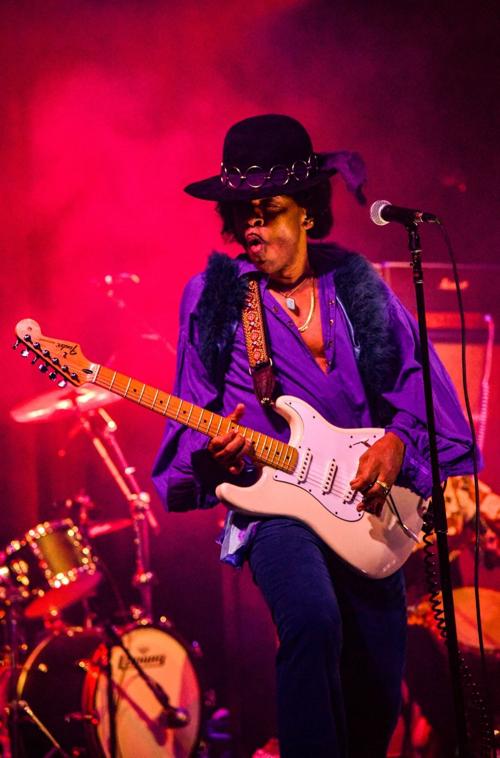 Kiss The Sky, a tribute act focusing on the late great Jimi Hendrix, will head to the Landis Theater in Vineland on Saturday, Feb. 20, for one night of psychedelic bliss. Here are five reasons to check out the show.
1 You can't see the real thing. One of the greatest tragedies in rock 'n roll history was the death of guitar virtuoso Jimi Hendrix on Sept. 18, 1970. That was more than 50 years ago, which means that for the last half century, seeing a live Hendrix show has not been possible. And so that leaves tribute bands like Kiss The Sky as the only option for those who want to experience a bit of the power of what a live show from Jimi Hendrix might have felt like. With Kiss The Sky, every aspect of the show has been recreated from the costumes to the music itself.
2 It can be a bonding experience. There's got to be a few of you out there who actually saw Hendrix live back in the day. Maybe it was at Woodstock or the Monterey Pop Festival, or maybe you were just in too much of your own purple haze to remember. But either way, if you are one of the lucky ones who got to see Hendrix in his glory, we think getting a few tickets for this show would be a great way to share a bit of that memory with the other members of your party who weren't so lucky. Just leave the magic mushrooms at home this time.
3 The musicianship is impressive. It takes a lot to pull off a convincing Jimi Hendrix guitar solo. It takes even more to get every nuance of the musical experience correct from each band member. To do that requires the use of only the most skilled musicians, and Kiss The Sky has managed to track down the perfect cast of characters to make this show feel as much like the real thing as humanly possible. Even the equipment is period-correct, from the instruments and amplifiers right down to the coil-style cables that connect them. In particular, singer/guitarist Jimy Bleu's ability to channel Hendrix's tone, feel and soulful voice is nothing short of astonishing, and should you choose to close your eyes during the performance you could easily convince yourself you are hearing the ghost of the man himself.
4 The setlist is stellar. Though he was only around for a short time, Hendrix has an impressive list of classics that are a blast to rock out to, and Kiss The Sky brings them to you live and loud. Who among us can resist playing air guitar to psychedelic favorites like "Foxy Lady," "Purple Haze," "All Along the Watchtower" or "Voodoo Chile (Slight Return)"?
5 It's been a while. When was the last time you went to see a live concert in a theater? For most people it's been a looooong time, It's the dead of winter and we're pretty sure you don't have big plans this weekend. And even if you do, chances are they are considerably less fun than this. So why not forget the troubles of our world for a few hours and take a time machine back to the flower child days? You know you want to, and with the abundance of safety protocols and social distance in place at the Landis Theater, you can be sure you will have a safe and enjoyable night out. Lord knows you deserve it!