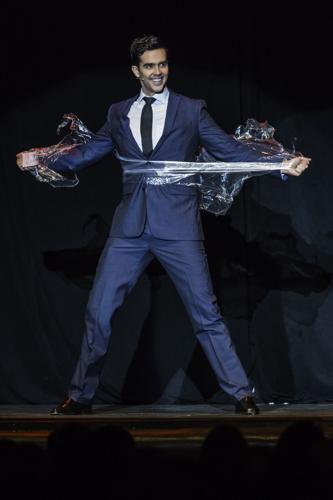 He's an actor. He's a magician. He's a comedian. He's a prankster. He's Michael Carbonaro.
Best known from his hit television series "The Carbonaro Effect" on truTV, Carbonaro brings his all-new "Carbonaro: Lies On Stage" show to Borgata Hotel Casino & Spa's Music Box 8 p.m. Friday, May 6.
Promising to "conjure up a concoction of unbelievable magic, hysterical offbeat shenanigans and wonder for audiences of all ages," Carbonaro, who has appeared in everything from soap operas ("All My Children") to comedies ("Chappelle's Show," "30 Rock") to legal dramas ("Law & Order: Special Victims Unit") says to expect the unexpected this weekend.
Here are 5 Questions with Michael Carbonaro:
SCOTT CRONICK: The first time I heard about you was from Penn Jillette, who comes here all of the time with Penn & Teller, and he brought you up as someone he's impressed with. That's a pretty nice reference.
MICHAEL CARBONARO: That's huge. Incredible compliment. It's humbling and startling to hear that. Both Penn & Teller are really cool. They are super supporters and very vocal about liking my show. And they actually invited me … I am doing seven weeks in Las Vegas this summer at their theater. They've never done that before. They are going away to Australia and letting me perform for seven weeks in the Penn & Teller Theater, which is amazing. And you can catch that show before Vegas, guess where? Right there at Borgata.
SC: Will this really be what people will see? Is this show new for those who have seen you in the past?
MC: It's a brand-new show. I toured for a while before the pandemic and did a couple of Zoom magic performances, which was cool, but I will come back with a brand-new tour show. It's all new magic. It's totally fun. Wild. I get out there with a lot of family audiences. I got kids out there. I got adults. I got couples. It's a mix of everyone, really, all ages. I do audience participation, play with them and have them come up and help out. I make two people disappear from the theater every night live on stage. They vanish right from stage. So if you're looking to get rid of anyone, bring them down, and I can take care of that for you.
SC: You could have been a magician straight up but then you decided to put in some trickery and comedy in there. Where did that come from? Family?
MC: I have a very spirited family. We are all very funny, but there are no magicians. I took a liking to horror movies and Halloween and monsters. And the first thing I wanted to be was a special effects artist. So I used to buy a lot of makeup and special effect supplies at a local magic shop, so that got me in the door of a magic shop. Then I started seeing them do things behind the counter, picked up a few tricks, watched Copperfield specials every year, and I performed some magic, and I got off on making people laugh and being in the moment with me during these demonstrations. Special effects brought me to magic, and magic brought me to performing.
SC: How does that translate for people who only know the TV side of you when they see you live?
MC: It's a totally different experience, and I play with that reality. I start to show them stuff that's magic, and there are a lot of layers of lies and truths in the show where accidents happen that are planned, and you see all kinds of things and you are like, "Oh my God, that was part of it, and I didn't know that was part of it." And you learn very quickly that even though you know who I am, I can still get you. You will be pranked. You will be fooled. And that's a lot of fun.
SC: Will there be more "The Carbonaro Effect?"
MC: No, it has come to an end. We did five seasons, over 100 episodes. I think as we we were finishing the fifth season, we were kind of in the air. I was feeling – and the crew was feeling – "I think we've done all we want to do here. But I don't know." But I think we felt it was coming to an end. We talked about revamping it, changing it, maybe coming back with it. And I ultimately felt it was time to move on. I am working on a brand-new TV seriesright now that I just got a development deal for, so it will take a little time to get it going, but it takes what I was doing before and brings in another sense of me as an entertainer, like a stage entertainer. It brings both worlds together. I have all these fans say, "Oh my gosh, I love your show so much and I wish I could be on it, but I can't because I know who you are." And I'm like, "That sounds like a dead-end career." How about trying to get the fans to be part of what they love so much, which is what I am doing on the road right now and what I will turn into a new TV show.