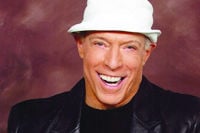 Once again, greetings and salutations. Unfortunately for those who have been trying to get tickets to see the Geator at the Kimmel Center with Darlene Love, Freda Payne, and the Duprees this Saturday night, it's completely sold out. Look for our next show on May 8 with a special Mother's Day tribute — thinking about Frankie Avalon, Connie Francis, Brenda Lee, and Bobby Rydell. And if you're home this Saturday evening, tune in to the Geator's Rock & Roll, Rhythm & Blues Express on WXPN from 6-7pm for a special salute to artists and labels from the West Coast. Many folks didn't realize that many familiar songs we heard on the East Coast were covers of originals from west of the Mississippi. For example, "Adorable" by the Drifters was originally by the Colts; "Church Bells May Ring," the gigantic hit by the Willows with Neil Sedaka playing chimes, was first done by the Cadets on the West Coast. Also, to all of you folks who listen to the Geator nightly on WTKU, thanks for the accolades. It truly is wonderful to be back broadcasting Monday through Friday from 5-7 on KOOL 98.3. Now to your questions.
I'm having a friendly disagreement with my husband, who says that Quincy Jones produced Lesley Gore's hits. I thought I recalled reading that it was John Madara. Can you settle this for us? – Lana
You probably read that Johnny Madara, along with Dave White, wrote Lesley's groundbreaking song "You Don't Own Me." But your husband is right. Quincy was Lesley's producer starting with her very first hit single, "It's My Party." It was also Quincy's first pop hit — before that, he was known as a jazz artist, composer, producer, and arranger.
And here's a great trivia question: Which award-winning 1964 film did Quincy Jones score? Answer at the end of the column.
I've heard George Goodman and the Headliners' "Let Me Love You" off and on here in Philly for the past 30 years, but could never find out much about the group. This is such a haunting composition. Why didn't it get the play it richly deserved? Do they still make appearances, or still alive for that matter? — Sadley & Dukie on YouTube
Originally recorded on the Val label in 1964, it was picked up by Warner Brothers in 1965, but as great as the record was, it never made it big on the national charts. It was a hit in several markets, including the group's home town of Pittsburgh, where it was No. 1. George Goodman, the group's producer, arranger, and promoter, was one of music's tragic premature deaths, and I believe the other members, Melvin Peters and Rodney Williams, went on to join other groups.
Just curious, I heard that Memories is up for sale. I hope not, it's a Margate landmark and a great place to spend Saturday night down the shore. Say it isn't so! – John S.
Every year the rumor resurfaces that Memories is up for sale. So don't believe everything that you hear. I agree that Memories is a part of the history of Margate and I have no immediate plans for that to end.
Answer to trivia: The Pawnbroker. It was the first of dozens of films Quincy scored, including In Cold Blood, In the Heat of the Night, and Bob & Carol & Ted & Alice.
Got a question for Jerry? Send it to AskTheGeator@acweekly.com or Geator Gold Radio, 626 Market Street, Philadelphia, PA 19106. For more info on Jerry's appearances, go to www.geator.net — and keep on rocking, 'cause you only rock once!