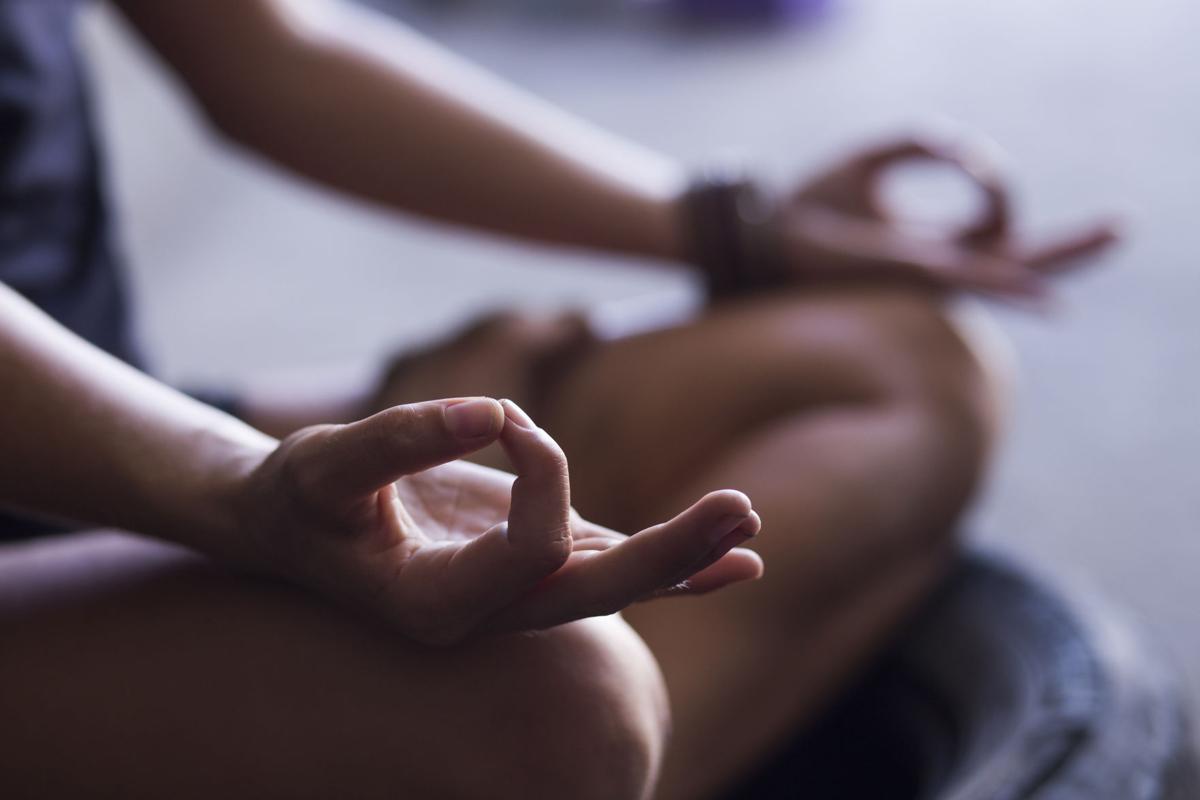 Making strides toward wellness often evokes images of cross-fit-esque fitness classes, full of high-intensity bursts, toned muscles wrapped in tight fabric and aggressive grunts of exertion. But at Blue Lotus, the new yoga studio that recently opened on Hammonton's main street, owner Melissa Morgan facilitates a very different kind of wellness class.
Every Sunday at 9 a.m., Morgan starts the morning with a guided meditation.
Blue Lotus is a cozy spot. Gentle music and the scent of essential oils greet you at the door. Morgan, a passionate and knowledgeable instructor, then invites the class to grab a blanket and pillow to sit on — a combination that provides comfort and good posture. A short introduction to meditation is followed by what Morgan calls a body scan, where she encourages the class to bring awareness to their surroundings and breath, while relaxing certain parts of the body. The second half of the 30-minute meditation is a guided visualization. Morgan reads different scenarios each class — encouraging creativity through visions of things like enchanted forests or peaceful clouds. All the work in this wellness class is mental, to the effect of being recharged and ready for the week ahead.
There is no question about it — A.C. Weekly is more often than not, a magazine devoted to sp…
It goes without saying that Morgan's meditation class is not your mother's Richard Simmons' tape, and with roots in the sixth and fifth century BCE, meditation is hardly a trendy fad (goat yoga, anyone?). More and more the movers and shakers of the fitness world have begun to recognize the importance of mental clarity as an essential aspect of one's overall health. We spoke with Morgan about the nuances and benefits of meditation, to clear up the myths about this ancient practice.
A.C. Weekly: What is meditation?
Melissa Morgan: We're training our minds with meditation. We're taking away our conscious thought and allowing ourselves to sit and come up with things that we aren't forcing. We're clearing our minds of the junk, and bringing about clarity out of that.
ACW: In what ways does meditation promote health and wellness?
MM: The subconscious mind is responsible for many parts of our body that we don't have control over. So this can help us alleviate a lot of things that come up during our day like anxiety and depression. It can momentarily reset our minds to reduce our fatigue. It also brings up emotions that maybe be suppressed like confidence and joy.
ACW: Who do you think gains the most from meditation?
MM: Meditation can be difficult, especially if you're not doing guided meditation. There's regular meditation where you sit quietly, and you're just kind of taking a break and allowing your mind to come up with thoughts. That can be very difficult for someone who doesn't have a meditation practice. It can be hard in general just to sit. Our culture has been taken over by movement. That's great, because we're constantly working and evolving, but we're not allowing our subconscious to take over. Meditation can be difficult for people who are very energetic, but it does benefit those people the most. It allows them to stop thinking so much. When we stop thinking we discover bigger things in ourselves. It's a huge shift for people. At the beginning of the class they are fidgeting around a lot and eventually they begin to settle, and their mind begins to quiet. At the end they're glowing.
ACW: How do you approach people who think it's a bunch of mumbo jumbo?
MM: What's interesting about that is there have been studies on mediation that prove its effectiveness. It's nothing to do with religion. The subconscious mind is scientific. It controls many parts of our body.
ACW: Is meditation a specialty you can train in?
MM: Yes. When I went through my yoga training, that's part of one of the pillars we have to study. We're trained on how to sit and breathe properly, and how to approach thoughts that are maybe unsettling and move through them. There are things, like childhood memories, that come up. It's kind of like a dream. It can feel very real because it's imagery that you store in your mind. It can be difficult, but as long as you learn how to sit through it and breathe, you can clear those unsettling thoughts out.
Two of the most accomplished gymnasts in recent Olympics history, Nastia Liukin and Shawn Jo…
ACW: What was your introduction to meditation?
MM: I discovered mediation when I was in college. I was coming up with a lot of anxiety from school and the transition. This was even before I did yoga. I did some research and started taking little techniques from the Internet, like small chanting techniques. And I just started to apply that to myself. Getting into basic meditation allowed me to get into a more advanced meditation, like through doing yoga and art.
ACW: Is it more beneficial to perform meditation in a class, as opposed to alone?
MM: It can be difficult if you're new to mediation to do it alone. If you're just beginning it would be best to start with a guided mediation. That allows you to learn how to breathe and do the body scan. In the class, I'm giving people the tools to take with them into mediation. Once they have those tools, then I think it's beneficial for them to do a self mediation; start small and then try to increase the amount of time that you sit. Start off with doing 5 minutes twice a day, then going up to 8 then 10, and so on.