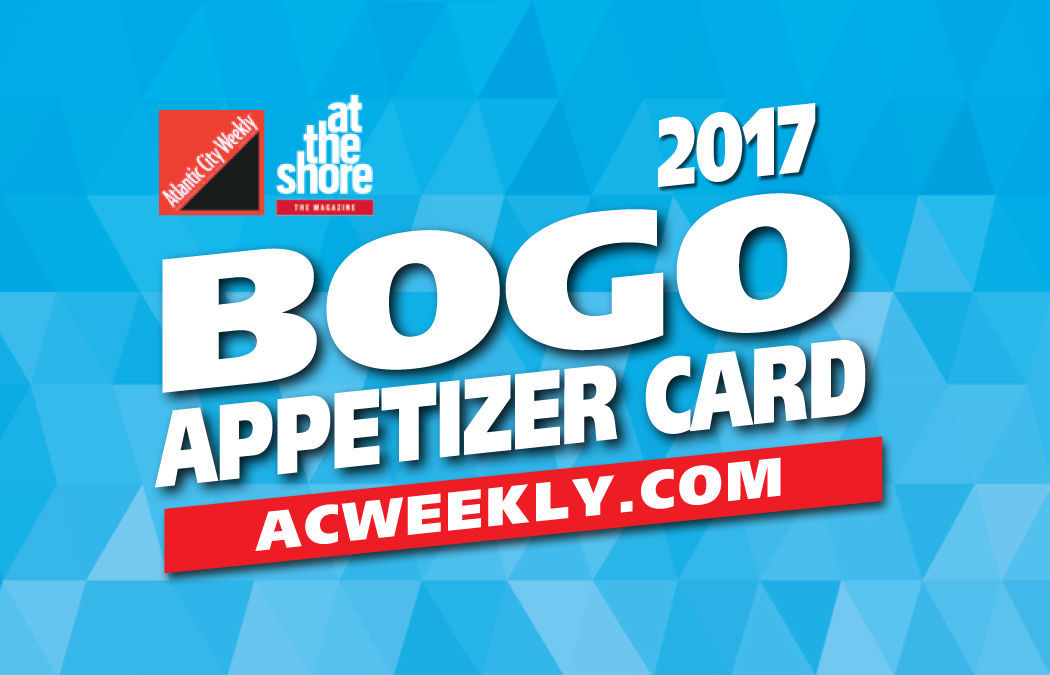 Those who have ordered one of Atlantic City Weekly's BOGO Appetizer Cards are already reaping the benefits, which, of course, are buy-one-get-one appetizers at participating restaurants throughout Atlantic and Cape May counties. The bright blue cards sit neatly in wallets, ready to save money, and since they can be used unlimited times until Dec. 30, undoubtedly those cards will be pulled out, presented to a server and stuffed back in countless times throughout the year.
Like most Fat Boys, we at the Fat Boy Munch Club enjoy a variety of food. That's why oftentimes intense and heated debates can break out over …
For those who haven't yet purchased a BOGO App Card for just $25 — what are you waiting for? Fortunately, we've made it easy to get your hands on one, placing them at restaurants all over South Jersey. BOGO Appetizer Cards can be found at the following restaurants:
Kelsey's: 1545 Pacific Ave., Atlantic City
Ruby's Dinette in Resorts: 1133 Boardwalk, Atlantic City
Pic-a-Lilli Pub: 231 S. Tennessee Ave., Atlantic City
The Nizam's: 6666 E. Black Horse Pike, Egg Harbor Township
Joe's Mediterranean Grill: 131 Jordan Road, Somers Point
Gregory's Restaurant & Bar: 900 Shore Road, Somers Point
Bocca Coal Fired Bistro: 7805 Ventnor Ave., Margate
Cattle 'n Clover: 3817 Pacific Ave., Wildwood
Naomi's Café: 801 Tilton Road, Northfield
Rio Station: 3505 U.S. Route 9, Rio Grande
Hi Point Pub: 

5 N. Shore Rd, Absecon

Purdy's Galloway Grill: 421 Chris Gaupp Drive, Galloway
Atlantic City Visitor's Center: Mile marker 3.5, Atlantic City Expressway
Longport Media: 1601 New Road, Linwood
The Press of Atlantic City: 1000 W. Washington Ave., Pleasantville
If none of these strike your fancy, you can head to ACWeekly.com/Appe tizerCards to purchase your card online.
Participating restaurants:
Absecon
Hi-Point Pub
Atlantic City
A Dam Good Sports Bar in Tropicana
Casa Taco & Tequila Bar in Tropicana
Coastal Craft Kitchen & Bar in Harrah's
Golden Dynasty in Tropicana
Gordon Ramsay Pub & Grill in Caesars
Guy Fieri's Chophouse in Bally's
Hard Rock Cafe
Hooters in Tropicana
Il Verdi in Tropicana
The Iron Room
Kelsey's
Melting Pot
Monkey Bar in the
Playground
Nero's Italian Steakhouse in Caesars
The Palm in Tropicana
Pic-A-Lilli Pub
Proud Mary's Sports Bar-Grill
Ruby's Dinette in Resorts
Ruth's Chris Steak House
Seaside Café in Tropicana
Tun Tavern Restaurant & Brewery
Veracruz in Harrah's
Avalon
Concord Café
La Vecchia Fontana
Avalon Brew Pub at ICONA Golden Inn
Shimmers Bistro at ICONA Golden Inn
Sandbar at ICONA
Golden Inn
Brigantine
Goochie Brothers
Laguna Grill & Rum Bar
Cape May
Harry's Ocean Bar & Grill
Egg Harbor City
Joseph's Restaurant at Renault Winery
Egg Harbor Township
Flat Stone Tavern & Grill
McCullough's Pub and Restaurant
The Nizam's
Rama Thai
Sublime Seafood
Galloway
Dubliner Irish Pub & Grill
Purdy's Galloway Grill
Linwood
Casaldi's Cucina
Chaba Thai & Sushi Restaurant
La PizzaTega
Margate
Bocca Coal Fired Bistro
Tipsy Taco & Tequila Bar
Marmora
Pappy's Pig Roast & BBQ
Mays Landing
Laureldale Pub & Grill
Mays Landing Country Club
Northfield
Atlantic City Country Club
Naomi's Café
Nick's Pizza
Roberta's
North Wildwood
The Establishment at 100
North End American Grill
The Shack
Ocean City
Cousin's Restaurant
Island Grill
Jon & Patty's
OC Surf Café
Tony P's House of Pie
Rio Grande
Rio Station
Sea Isle
Kix Lincoln Grill
La Fontana Coast
Somers Point
Gregory's Restaurant & Bar
Joe's Mediterranean Grill
Manco & Manco Pizza Too
Tavern on the Bay Steakhouse
Strathmere
La Fontana Del Mare
Villas
American Deli and Pizza
Wildwood
Cattle 'n Clover
Mia Mia