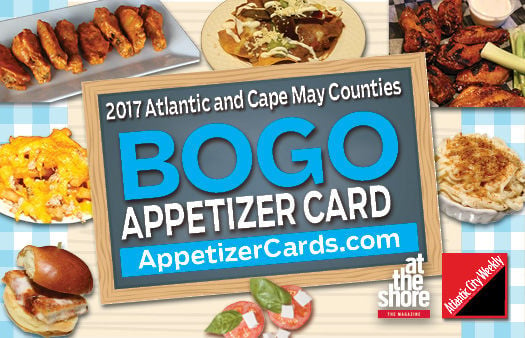 There's a pernicious dilemma we all face when going out to eat — save money and sacrifice taste, or be indulgent and suffer when the bill comes.
Well, we at A.C. Weekly don't want you to have to compromise, which is why we devised our Buy One, Get One Appetizer Card. When you purchase our BOGO App Card for just $25, you are entitled to receive a free appetizer when you purchase one of equal or greater value at participating restaurants (after two uses it pretty much pays for itself). You can use it all year long as many times as you want beginning April 1 and running through Dec. 30.
However, now you'll get even more bang for your buck with the BOGO App Card. Last year, two separate cards were available — one for Atlantic County and one for Cape May County. This year, we're combining both counties for the same price; so, you'll get buy-one-get-one apps at restaurants all throughout both counties for the better part of a year for just $25.
A complete list of participating restaurants will be announced in March. If you're a restaurant owner and would like to be among the impressive ranks partaking in our BOGO App promotion, contact Director of Entertainment Publications Scott Cronick at scronick@pressofac.com or 609-272-7017. The deadline to participate is Tuesday, Feb. 28.
It's finally here. The long-awaited, most exciting day in the football season — Super Bowl S…
While the BOGO App Cards are not on sale yet, we'll keep you updated as to how and when to buy on AppetizerCards.com.