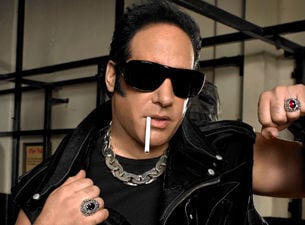 The Diceman cometh
The always edgy Andrew Dice Clay is the latest comic to headline at Atlantic City Comedy Club's weekly series of comedy shows. "The Diceman," as he is sometimes known, made a name for himself in the early '90s as his fame skyrocketed, thanks to his shockingly explicit and politically incorrect act which featured a set of raunchy nursery rhymes and various other bits of off-color humor. While the nursery rhymes have been retired, Clay's off-color humor remains intact … and hilarious. Clay will appear at 8:15 p.m. Friday, Feb. 19, and 6 and 8:15 p.m. Saturday, Feb. 20, at the Celebrity Theater at the Claridge Hotel. The Claridge is located at 123 S. Indiana Ave. in Atlantic City. Tickets are $95 and $135 and can be purchased at AtlanticCityComedyClub.com.
Hard Rock Motown Show is back — with a shot of love — at Hard Rock
The popular Motown show "Motor City Live" is back at Hard Rock Hotel & Casino Atlantic City. The revised production will feature about 50 percent new material compared to its previous run. Produced by Allen Valentine, expect Motown renditions of timeless love songs such as "Reach Out (I'll Be There)," "This Old Heart of Mine," "Please Mr. Postman" and more. Held under strict "Safe + Sound" guidelines, showtimes are 4 and 8 p.m. Saturdays, and 4 p.m. Sundays through Memorial Day weekend. "Motor City Live" features a live band and a cast of extraordinary singers and dancers. Tickets are $29 and will be sold as tables of two or four seats to ensure social distancing. Masks are required at all times except when drinking beverages, which will be offered by servers. Hard Rock is located at 1000 Boardwalk in Atlantic City. Tickets are available at HardRockHotelAtlanticCity.com
Somers Point Arts Commission hosts photo exhibit
The second floor walkway at Shore Medical Center in Somers Point now features an exhibit from local photographers showcasing images that illustrate the vitality and diversity of life in Somers Point.
The show, titled "Somers Point 20/20," is presented by the Somers Point Arts Commission. However, due to COVID visitor restrictions at the hospital, the exhibit is not currently open for public view. But fear not, as art lovers can still check it out online, as a slideshow of the full exhibit is currently available on the Arts Commission website at SomersPtArts.weebly.com.
Poster Exhibition at Noyes Museum tells story of Poor People's Campaign of 1968
The Noyes Museum of Art at Stockton University Kramer Hall will present the exhibit "City of Hope: Resurrection City and the 1968 Poor People's Campaign," which will be on display now through Sunday, May 9.
The poster exhibition examines the Poor People's Campaign — a grassroots, multiracial movement that drew thousands of people to Washington, D.C., for 43 days between May and June 1968, as demonstrators demanded social reforms while living side by side on the National Mall in a tent city known as Resurrection City.
The City of Hope exhibition is open to the public during Kramer Hall hours, 8:30 a.m. to 8 p.m. Mondays and Thursdays, and 8:30 a.m. to 5 p.m. Tuesdays, Wednesdays and Fridays. Kramer Hall is located at 30 Front St. in Hammonton. Face coverings are required, and social distancing protocols are in place. A virtual exhibition will also be available on the Noyes Museum website at NoyesMuseum.org.
O.C. Fine Arts League presents the 'Tribute to an Artist' Art Show & Exhibition
Inspirations from famous artists make up the theme in the "Tribute to an Artist" Art Show & Exhibition at The Art on Asbury gallery in Ocean City. Artwork will be on display throughout the month of February.
All show pieces are for sale, and the gallery also showcases watercolor, glass, mixed media, pottery, photography, oil, acrylic, textiles, jewelry and sculpture — all made by professional local artisans.
Gallery hours vary. The Ocean City Fine Arts League's Art on Asbury gallery is located at 711 Asbury Ave. in Ocean City. For more info, call 609-814-0308 or go to OceanCityFineArtsLeague.org.
Pine Shores Art Exhibit
Pine Shores Art Association has mounted a new winter art exhibit in Tuckerton Borough Hall that can be seen through the end of March. More than 50 framed paintings and drawings by 25 artists are on display in the center hall and courtroom, and original works by Paul Hartelius are featured in the conference room.
Tuckerton Borough Fine Arts Gallery is located in the municipal building at 420 E. Main Street in Tuckerton. Public viewing hours are 9 a.m. to 4 p.m. weekdays, except when the building is closed for holidays or other special exceptions. All art is for sale, and a price list is available in center hall. For more info, go to PineShoresArtAssociation.org.
Stockton Art Gallery features works inspired by 'Red Summer' of 1919
An exhibition of artwork that examines racial inequality in America will be on display at the Stockton University Art Gallery from now through Thursday, April 1.
Seventy-three pieces by New Jersey artists Casey Ruble and Wendel White are featured in the exhibition titled "The Question the Answer Hides." Most are from the two artists' respective "Red Summer" projects, referencing the 1919 race riots and attacks on blacks who migrated from the South for work after World War I.
A virtual conversation with the artists will be held 2:30 p.m. Thursday, Feb. 18, via Zoom.
The art gallery, located in L-wing on the Galloway campus, is open 11 a.m. to 4 p.m. Mondays through Fridays, and 11 a.m. to 6 p.m. Saturdays. Face coverings are required. Weekday visitors must get a virtual parking permit at Visitor.Stockton.edu.
Stockton University is located at 101 Vera King Farris Drive in Galloway. For more info, go to Stockton.edu/art-gallery.
Walking in a Vintner Wonderland at Renault Winery
Renault Winery in Egg Harbor City is a gorgeous location to visit no matter what time of year you go, but this winter they are offering a one-of-a-kind experience that is sure to dazzle just about everyone. It's called Vintner Wonderland, and it features everything from a giant ice skating rink — complete with a DJ — to local vendors and artists selling holiday ornaments, toys, scarves, glassware, figurines, artwork, apparel and various crafts.
Guests can stroll through the grounds taking in the gorgeous lights and displays and later gather around one of the firepits to warm up while sipping a glass of wine or hot cocktail. Food trucks will be on site, but folks also have the option to make a reservation at the outdoor Champagne Patio Garden, which also features live bands. This weekend you can check out Laura Lea 5 p.m. Friday, Feb. 19; Cheezy & The Crackers at noon Saturday, Feb. 20; Billy Walton Band 6 p.m. Saturday; and Country Sundays with Hawkins Road noon Sunday, Feb. 21.
The Vintner Wonderland runs through Sunday, Feb. 28. Hours vary, so we recommend calling or checking the website before you go. Renault Winery is located at 72 N. Bremen Ave. in Egg Harbor City. Go to RenaultWinery.com.